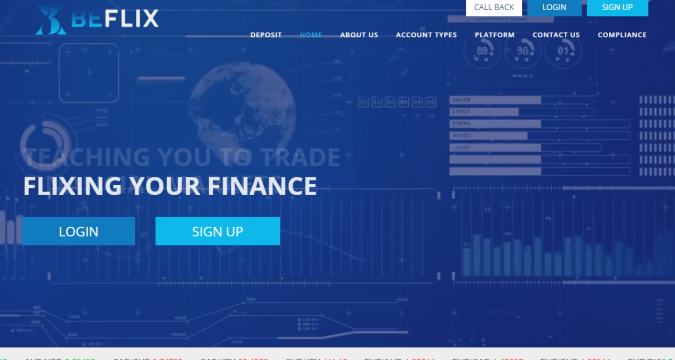 Beflix [beflix.net] Review
Finding a broker or anything else these days is not very difficult. The internet has made everything easily accessible so all you have to do is search on Google and you will find what you are looking for. This also applies to brokers. But, the problem is that not every broker you will find can be trusted. Just because they are listed on the first page of search results is no guarantee of their reliability. Some brokers are very good at misleading customers and it is too late when you realize that you have signed up with a scam broker. One such example is Beflix.
ROBOT

RATING

PROPERTIES

TRADE

Free to use

88% Claimed win-rate




$250 Min Deposit




Accepts Debit and Credit Card

  Trade Now
This is an offshore forex and CFD broker that's based in Seychelles, a region notorious for its lack of regulation. They are offering a total of six account types and are offering a variety of assets for people to trade, which can be a powerful lure for those who don't know what to look for. Some of the advantages that often convince people to sign up with Beflix are:
Great leverage ratios
One of the potential benefits that Beflix claims to offer to its customers is its leverage ratios. They are quite high and can often reach 1:200, which is an option that appeals to those who enjoy taking risks. However, these ratios are clearly not suitable for anyone who is just starting their trading journey because it comes with a lot of risks.
A wide selection of assets
Another prominent advantage that Beflix is offering to its clients is the rich product portfolio to choose from. It comprises of a number of forex currency pairs, along with different CFDs on precious metals, commodities, indices, ETFs, bonds, stocks and even some notable cryptocurrencies. This is a wide selection of assets that will suit traders of different backgrounds because there is something for everyone.
While these features will seem appealing to you, listed below are some major reasons why you shouldn't sign up with the broker:
Lack of regulation
The single most important factor for determining the safety of your investment is regulation and this is where Beflix is severely lacking. The broker does not possess a license for offering its services and this reduces its credibility considerably. According to the information provided, Beflix is owned and operated by Altridium Group Inc., which is based in Seychelles. However, the previous trading name of this company was FlixGM.
You need to bear in mind that brokers based in such offshore locations don't have the license to offer financial services and they are not supervised by any government authority or organization. This means that if you sign up with them, you will be subjected to numerous risks. In contrast, financial service providers who are properly regulated by government agencies are required to follow some strict ethical and financial discipline. They are also required to maintain transparent accounts for all transactions that involve the use of client funds. Therefore, it is best to steer clear of unlicensed and unregulated brokers.
Blacklisted in Belgium
Another mark against Beflix is that the broker has been blacklisted as a potential scammer by Belgium's Financial Services and Market Authority (FSMA). They have been issued a warning for using ads on different social media channels, which feature well-known public figures narrating stories about how to get rich instantly. This is a major red flag and tells you that you shouldn't use this broker for trading.
No information about trading conditions
When you want to judge the legitimacy of a broker, you would obviously want to take a look at the information available about them. This is one of the top reasons scammers do not share much information because they know that someone may spot the irregularities and inconsistencies in their claims, which would expose them completely. This is a big problem when it comes to Beflix because there is not much information available about its trading conditions, such as maximum leverage offered, the spreads available and the trading platform that will be used.
Moreover, the broker doesn't have the option of a demo account either, which is also a red flag because it shows that the broker is not being transparent with their pricing and services.
Uncompetitive spreads and unproven platform
First, it should be noted that you have to open an account with Beflix if you want to check out its trading conditions and spreads. The basic account that can be opened requires a minimum deposit of $250. Moving onto trading platform, the broker is not offering anything impressive. The trading platform interface is overly simplified and is not even close to the MetaTrader4, the top choice of traders in the market.
The latter comes with a wide array of tools and other offerings that make it an excellent choice, but Beflix doesn't offer any support for the MT4. Furthermore, its existing offering is nowhere near the MT4 platform, which is user-friendly, has charting options and also allows automated trading through Expert Advisors. Other than that, Beflix also seems to have high trading costs, which can be very discouraging because it means they will eat up your profits
Conclusion
Even though you may believe that there are a few possible benefits of Beflix, you need to remember that they are not enough to have you sign up with the broker. This is due to the fact that Beflix's lack of regulation implies that it is not safe for signing up. There is a chance your money will be stuck and you will not be able to withdraw it.
In addition, you have absolutely no information about the trading conditions, which means you will have to go in blind and if the conditions are not in your favor, there is nothing you can do about it. There is no demo account that can be used for getting acquainted with the broker and its new and mysterious trading platform. Also, you can also check Beflix's customer reviews, which all indicate that it is not to be trusted.
ROBOT

RATING

PROPERTIES

TRADE

Free to use

88% Claimed win-rate




$250 Min Deposit




Accepts Debit and Credit Card

  Trade Now