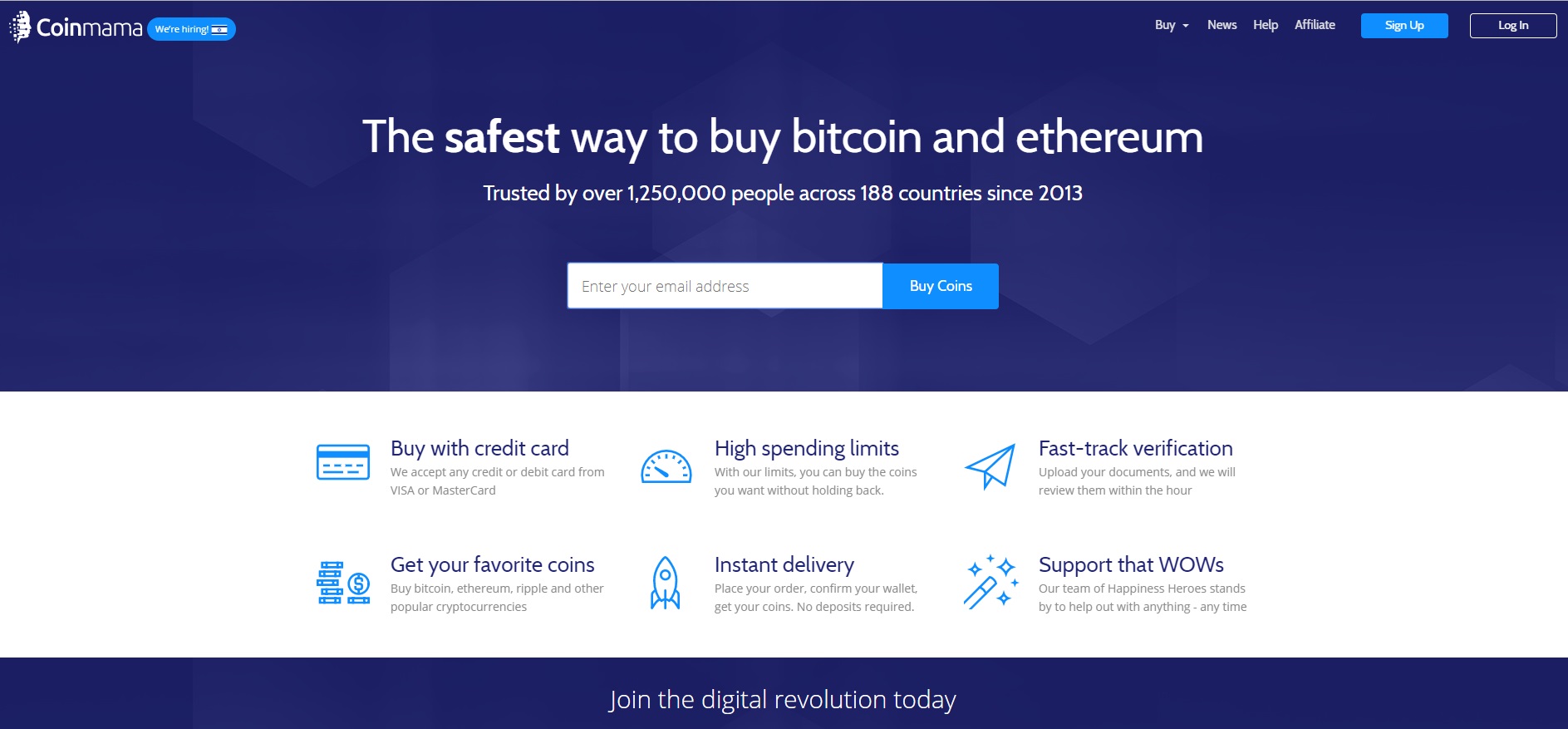 Coinmama Review
Even though cryptocurrencies still remain largely unregulated, more and more people are investing in them due to the potential returns they can offer. Last year, a number of cryptocurrencies, especially Bitcoin, reached an all-time high and this prompted a further rise in their popularity. As the number of investors continues to increase, a large number of cryptocurrency exchanges are being established to help people in buying and selling them. The competition amongst these exchanges is increasing and each is trying to offer unique benefits to cryptocurrency investors. One of the top rated cryptocurrency exchanges these days is Coinmama, which is known to have a huge customer database.
ROBOT

RATING

PROPERTIES

TRADE

Free to use

88% Claimed win-rate




$250 Min Deposit




Accepts Debit and Credit Card

  Trade Now
It is the first choice of all those investors who are looking to get cryptocurrency instantly in their wallets. First established in 2013, Coinmama is registered in Slovakia. It is owned by Israel-based Bit Ventures. The worldwide operations of this exchange is the most distinguishing feature of Coinmama and separates it from the others out there. It is operating in more than 200 countries around the world and can be used in approximately 24 US states. Users from all over the world can buy cryptocurrencies on Coinmama by using their debit or credit cards.
Previously, Coinmama gave investors the opportunity of buying only two cryptocurrencies; Bitcoin and Ethereum. However, with the introduction of a large number of new cryptocurrencies, it has also expanded its range and people can now buy Cardano, Ripple XRP, Bitcoin Cash, Ethereum Classic, QTUM and Litecoin through Coinmama. You can use this exchange in 217 countries and 24 states in the United States, which are:
Wisconsin, Florida, Arizona, Massachusetts, Michigan, Pennsylvania, New Jersey, California, Indiana, Illinois, South Carolina, Nevada, Montana, Louisiana, Kentucky, Maryland, Virginia, Texas, New Mexico, Missouri, Illinois, Kansas, Colorado, Tennessee
Using Coinmama for buying cryptocurrencies can provide a world of benefits to people. Some of the top advantages that you can enjoy by choosing this platform for your investment are:
Acceptance of Fiat currency
The first and most prominent benefit of using Coinmama is that unlike a number of other cryptocurrency exchanges, it provides investors with the option of purchasing cryptocurrency in exchange of fiat money. When you are using any of the other exchanges in the market, you will typically exchange it with another cryptocurrency. Regardless of which country you are based in, you will be able to use Coinmama for buying cryptocurrency and pay through your local currency.
Instant transfer of funds in user accounts
Those who want to see instant funds transfer in their accounts can find no better option that Coinmama. The other cryptocurrency exchanges will typically store your purchases in a third party wallet and you will have to transfer them to your personal wallet as these are not exactly secure for storing your cryptocurrencies. This doesn't apply in the case of Coinmama because here the funds are transferred to your personal wallet instantly once you have provided your card and wallet details.
Another reason that has contributed to the success of Coinmama as a cryptocurrency exchange is the fact that it allows its customers to buy cryptocurrencies through different payment methods. Previously, the exchange had provided its users with the facility of buying cryptocurrency in exchange with funds transferred via Western Union. But, recently Coinmama has begun to offer support for purchasing cryptocurrency through credit and debit cards as well. You can use both Visa and MasterCard and purchase the cryptocurrency of your choice from any part of the world.
Easy and responsive user-interface
One of the most appealing and attractive features of Coinmama cryptocurrency exchange is it boasts a user-friendly and easy-to-use interface. Even beginners will have absolutely no problem when they want to buy any cryptocurrency through this exchange as it is quite easy to use. If you do some research, you will discover that some of Coinmama's competitors are somewhat complex and there is a learning curve as there are numerous graphs, charts and other statistics that make things difficult. In contrast, Coinmama has an easy and simple buying process. Users can start buying the cryptocurrency of their choice once they have registered an account on the website and verified it.
Availability of support and assistance when needed
A major reason why Coinmama is often preferred by investors all around the globe is because the exchange provides support and assistance to the users immediately in case there is a problem. For now, the exchange can only be accessed through the website and there is no mobile option available so you can seek customer support directly from the website. You can find the option of using live chat to reach out to Coinmama's representatives or you can also take advantage of the email support provided. The response time of the customer support team is also fast and you can easily get your problem resolved and move ahead with your purchases.
If you want to keep your cryptocurrency in a third party wallet, it is a given that you will give priority to the security features of the exchange. In addition, you want to deal with an exchange that's regulated by a governmental body because this also adds security to your funds. This is where Coinmama can be an excellent choice because it is registered with FINCEN in the United States, which shows that there is very little risk of it being hacked and if any breach does occur, then US laws are followed during the investigation process. The best part about Coinmama is that it has never suffered from a security breach and it uses separate server for storing the information of its users.
In a nutshell, Coinmama is a great exchange for purchasing cryptocurrencies because it can be used in almost all countries of the world. The exchange is also worth using as it gives users the facility of using debit and credit cards for making their purchases and accepts a number of Fiat currencies.
ROBOT

RATING

PROPERTIES

TRADE

Free to use

88% Claimed win-rate




$250 Min Deposit




Accepts Debit and Credit Card

  Trade Now