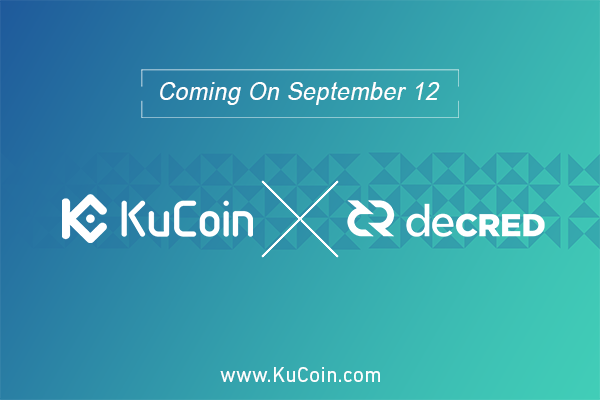 As part of the revolutionary growth of KuCoin, it has listed one more capable project that will interest many significant partners, traders or investors. The newly listed token is the autonomous digital currency of Decred.
Deposit and trade transactions can now be transacted using crypto pairs like DCR/ETH and DCR/BTC. Users can now execute trades by using KuCoin Apps or direct website.
Introduction to Decred
It is a kind of digital currency that is autonomous. It is a self-ruling currency. Here, stakeholder is the one to create governing rules.
Two years ago (2016), Decred was striving to deal with blockchain governance. Its groundbreaking consensus voting system enables stakeholder and makes way for a smooth or seamless transition from a single set of rules to a different one. The decentralized ways of funding itself and making decisions have empowered individuals to establish a solid, growing digital currency and free from any third party influences.
It was developed from pure verified open-source technology.
Its modular codebase is offering a distinctive ability to adapt easily.  It can also scale to the most recent technology of blockchain. The technology started the first efficacious direct user activated on-chain consensus vote. It embodies a radical approach to the governance of stakeholders. It is where the community of Decred leads the development and builds decision altogether. This project will empower individuals, groups, and companies.
How does it work?
Decred is a community-powered. Stakeholder participating in the conceptualization of decisions will receive rewards for efforts and contributions. The strong contractor model and supportable funding let anyone join on Decred any time of the day. These will also encourage its governance. The value of the system is in the hands of people or organization working on it. They put their efforts together to build a decentralized future ahead on us.
An innovative hybrid of consensus voting system, PoS and PoW are all highlighted on this. It contains smart contracts including Lightning Network which all work on the growth of the system. Another attribute is presented as a public proposal platform which is empowered through blockchain. Moreover, it is a censor-resistant. A cross-chain atomic swap on different cryptocurrencies is observed here too.
Different principles that guide the project binds Decred. These were produced to form a reasonable and maintainable structure inside. It will help it to achieve the primary objective- to become a decentralized and autonomous digital currency wherein every stakeholder has a real voice. It has an open source and free software. Any software that is developed as part of the system should be free at all.
DCR – the Decred's Autonomous Currency
DCR is the cryptocurrency symbol for Decred's coin. Twenty-one million is its maximum DCR supply. At this moment, more than 8 million is circulating on the crypto market. The hybridization produces a balance among stakeholders and miners. It encourages any kinds of good supports to secure the network. Not all coins are mined. Therefore, opportunities still await new miners.
---
Set up an account on a recommended exchange or broker website to start trading:
Link: Visit recommended website HERE