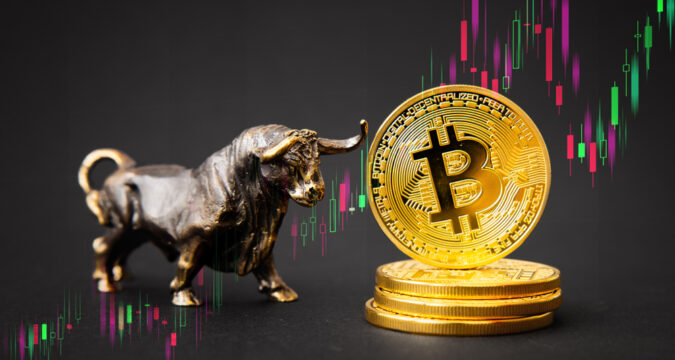 Whether you're a newcomer to the CFD trading arena or a veteran investor, iFOREX is a name you may be familiar with, at least in passing, because this broker has over 25 years of experience. Founded in 1996, when both the internet itself and the CFD trading industry were still fairly new, iFOREX has navigated the ever-complex world of finance and technology—affectionately known as fintech nowadays—to stand out as an industry leader. You may be asking yourself what it takes to be an industry leader in fintech, and that's what we're going to discuss today.
About iFOREX: The basics
When it comes to the financial industry, it's a pretty un-personal world comprised of numbers, rates, deals, investments, instruments, and markets, and that's the first way iFOREX stands out: by taking a very human, personal approach that makes each client feel valued and attended to, should they find themselves in need of assistance. Every step of the CFD trading process is thoroughly explained, from registering for an account to opening and closing your first deal.
About iFOREX: How to open an account
Getting started is a straightforward process. Once you've decided that iFOREX is the CFD broker for you, the next step is to sign up for a free account. You'll then be asked to submit a variety of documents for identity verification; this is designed to protect you as a client by making sure it's actually you that's registering for the account, as well as to uphold iFOREX's commitment to safety and security, a hallmark feature of regulated brokers. After you have been verified, you'll have the chance to fund your account and begin trading CFDs.
However, if you'd like to enhance your skills or get a feel for the platform before opening a trading deal, you'll have the option to take advantage of iFOREX's massive offering of educational materials including trading guides for traders of all experience levels, interactive video tutorials, and even a 1-on-1 training session with a live trading coach, who can help develop your trading acumen at your own pace. There's even a demo account feature that you can use to open and close deals without risking any real money—a plus even for seasoned traders, as it gives them a chance to get a feel for the platform.
About iFOREX: The trading platform
The iFOREX trading platform truly is one of a kind, as the company has developed their own proprietary trading platform, rather than using a branded version of a generic trading platform. It was born of today's most innovative software and guidance from actual traders. Available for both desktop (web) and mobile, the iFOREX trading platform is your dashboard to the global financial markets, giving you access to live rate charts, analysis, tools and features, even educational resources, so you can make the most informed trading decisions anytime, anywhere that suits you. Especially easy to navigate, the iFOREX platform is elegant and intuitive, making it ideal for today's modern trader.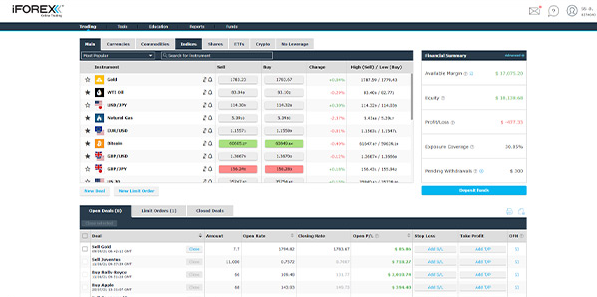 About iFOREX: Wide selection of trading instruments
Variety is the name of the game at iFOREX, and when it comes to choosing which CFD instruments to include in your trading portfolio, you'll be spoiled for choice because iFOREX offers literally hundreds to choose from. The main categories include commodities such as oil, gold, coffee and silver, shares of today's top companies like Apple, Amazon, Tesla, McDonald's and Coca Cola, leading global indices such as the US 500 (which tracks the S&P 500) and the Germany 40 (which tracks the German DAX index), a wide range of foreign currency pairs including EUR/USD, USD/JPY, and GBP/USD, a robust offering of Exchange Traded Funds (ETFs), and—of course—a massive selection of crypto currencies including popular cryptos like Bitcoin, Ethereum, Ripple, and Litecoin, as well as altcoins like Dogecoin and Cardano.
Speaking of crypto currencies, the crypto market is gaining plenty of attention around the world lately, and traders at iFOREX have the ability to enter this dynamic market by investing in price movements of heavy hitters like Bitcoin without the need to purchase the underlying asset or the use of an e-wallet.
About iFOREX: Promotions and client support
Part of iFOREX's commitment to its clients is an exciting lineup of promotions, from welcome bonuses to an ongoing offering of trading bonuses to enabling clients to earn 3% interest on their equity. iFOREX also believes clients deserve the best when it comes to their questions and concerns, and offers a support team that's available in your language to help with kindness and attentiveness. The bottom line is: no matter how fast or furiously the fintech industry moves, iFOREX remains a mainstay dedicated to both innovation and a personal touch.