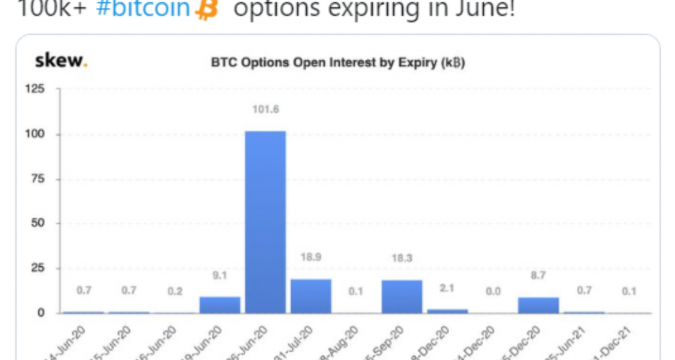 June BTC options
Expectedly, a large amount of Bitcoin (BTC) options may expire later this month as according to the data provided by the Skew Analytics, over 100,000 BTC options are going to expire on Friday, June 26, 2020.
100K BTC options expiring in June
Skew analytic company has presented a chart that represents Bitcoin (BTC) Options open interest by their expiry date. According to this graph, a massive amount of over 100,000 Bitcoin Options are going to expire later in the month of June 2020.  The exact date for the expiry of this amount is June 26 estimated by the Skew agency.
Last time, when the Skew Analytic company made an announcement, the estimated amount was over 84,000 BTC options which were going to expire on the same day. But now it is over 100K.
Furthermore, the Skew analytics data shows that overall there has been a significant increase in the interest rate in Bitcoin options.
BTC addresses with 0.1 BTC post a new All-time high
Bitcoin network has seen significant growth in the total number of Bitcoin wallet addresses having 0.1 BTC in recent times. According to the shared data by crypto data provider Glassnode, the number of Bitcoin (BTC) wallet addresses containing 0.1 BTC or more has surged high posting a new all-time high. The new all-time high stands at 3,057,754.000 while the previous all-time high was 3,057,647.000 noted by Glassnode on the 15th of June.