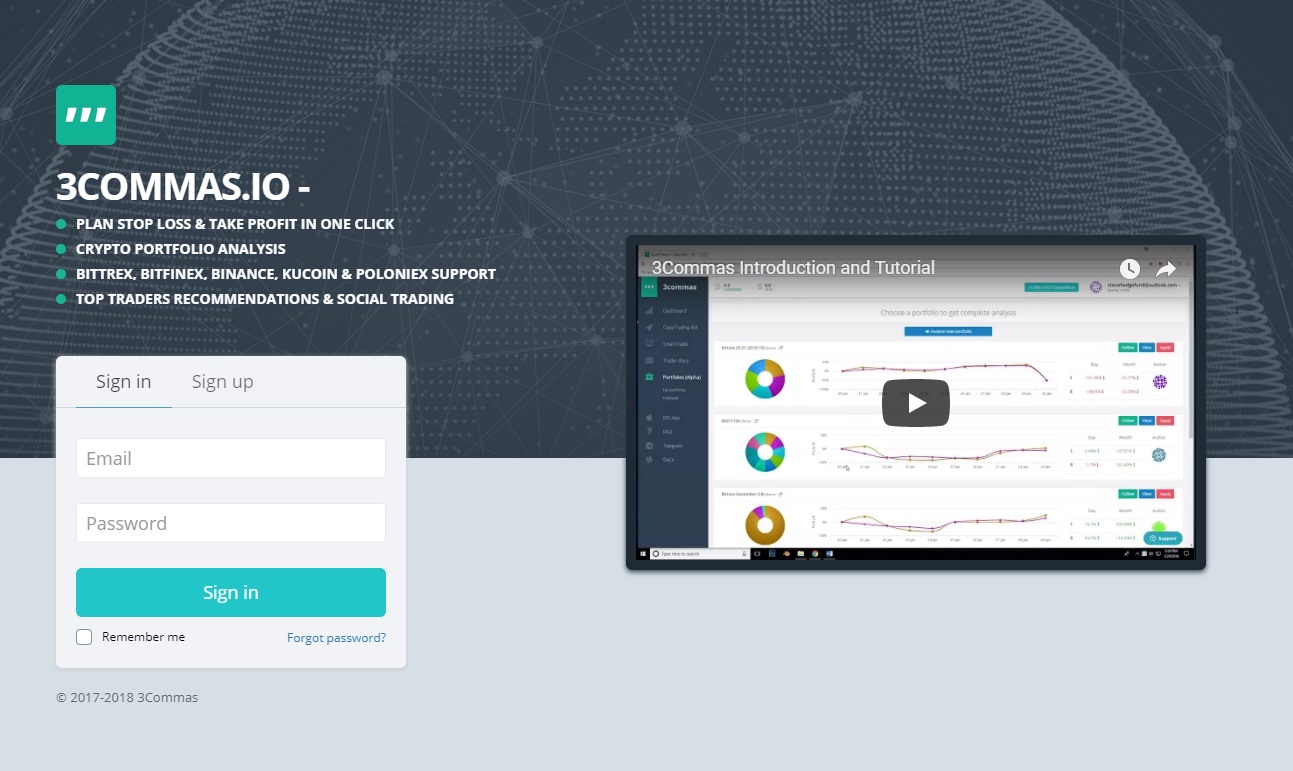 Is 3Commas Really A Must Have Cryptocurrency Trading Tool for Investors?
Recently UseTheBitcoin.com wrote an article about 3Commas cryptocurrency trading tools and called it a "must have" cryptocurrency platform for investors and naming it "one of the most complete cryptocurrency trading tools available on the market". In this article we will review 3Commas for you and let you know what we think about this new Automated Crypto Trading and portfolio management service and our recommendations about joining them or not.
Lets Look at a couple of articles that have been posted on the web regarding 3Commas tools and services
1 – telegra.ph – 3commas.io – how to trade like a boss
2 – usethebitcoin.com – 3Commas – A Must Have Cryptocurrency Trading Tool for Investors
Good Reviews Right?
Now, what do we here at CryptoCoinStockExchange have to say about 3Commas? Well we signed up to their trading platform easily enough, all we had to do was enter our email and choose a password, very simple.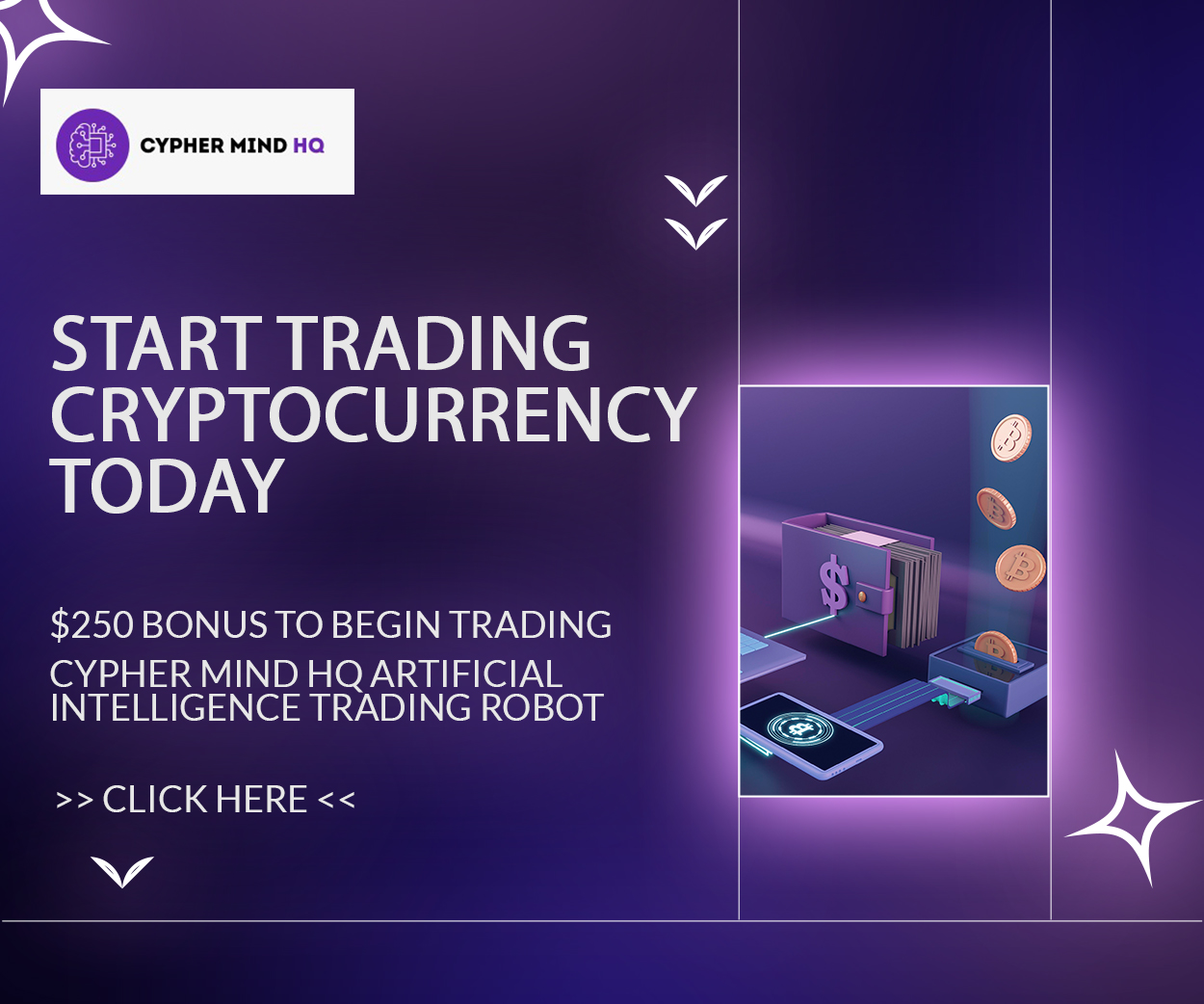 Signing Up to 3Commas
Signing up was so easy I didn't even have to confirm through email, it literally takes takes 5 seconds. For signing up you will need to enter the following details:
Email Account

Choose a password

That's it!
Start Trading
The dashboard is extraordinary and so simple to use! The support is also phenomenal, just 30 seconds after writing to them in their ZenDesk support online chat window someone answered me! The simple reality is that this platform is so simple to use that any novice trader can start trading within a couple of minutes and use any of the tools to increase their trading powers but at the same time the tool is a must have for expert traders that have multiple trading accounts on various exchanges.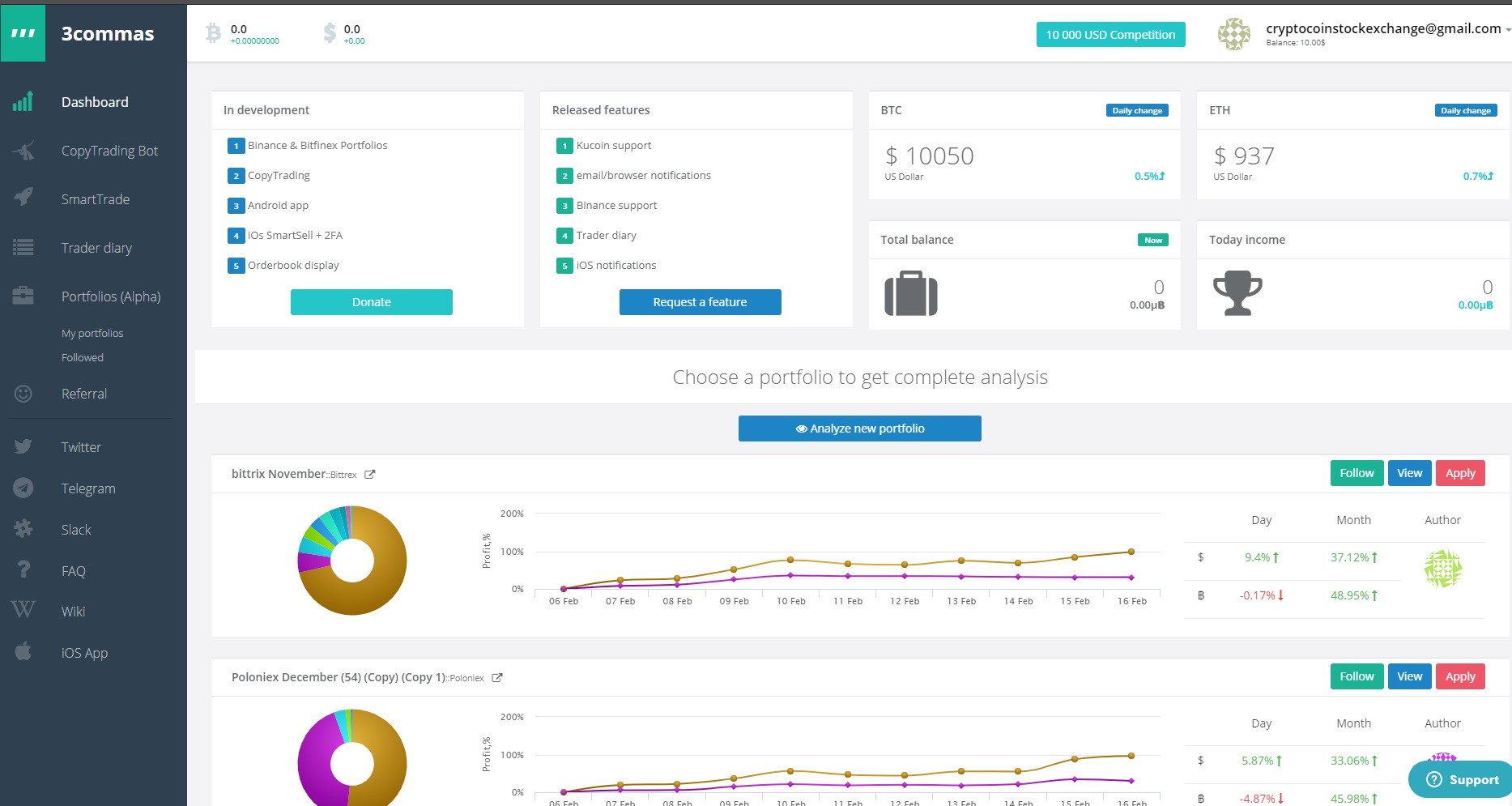 3Commas.io Crypto Trading Tools
Copytrading

– Their CopyTrading bot has over 2,000 traders from all around the globe on Bittrex, Poloniex, Binance and a few more exchanges that I can begin to follow and copy trades from. These are the top traders on these exchanges.

SmartTrade

– Trade in all of my exchanges accounts in one window, an awesome idea that will work out really well for 3Commas in my opinion!

Trader Diary

– All of my past trades from my accounts on several exchanges in one place including pair, exchange, open date, close darte, result, notes and more.

Portfolios

– Similar to copytrading but with extensive portfolios from around the globe, follow and copy the top traders whole entire portfolio of trades. Wow this one is just amazing!
Our Recommendation and Review of 3Commas
We absolutely recommend signing up for 3Commas automated cryptocurrency trading platform, it is so simple to sign up, easy to use and full of options that will make triding easier and more profitable for just about any trader and it is simply all that it is said to be in other articles that we have read on the web.
3Commas Pros
If you have more than one trading account at a number of exchanges such as Bittrex, Poloniex, Binance, Kucoin and more, you can trade all of them on the same window.

Contemporary StopLoss and TakeProfit. Exchanges don't do this for you and these types of tools which are also used in the FX trading world are a must have for traders.

Trailing mechanisms that will help you to trace all of the different market changes and limit your potential losses.

Special notifications about your orders' condition using push notification in browsers, Email and / or mobile applications. This is very similar to a signal service but for letting you know what is happening with your live orders instead.

Notes for the orders giving you the ability to leave a note to yourself for each and every past, future or ongoing order, this is just genius!

Trader's journal with a summary of all of your trading statistics from your accounts in all exchanges on one page.
3Commas Cons
We couldn't find any! They even have a Twitter, Slack, Wiki and FAQ and even a Telegram channel which makes it so much easier to use.
Are There Any Other Tools Like 3Commas On The Web?
We searched long and hard using google, reddit and even asked around on Telegram crypto groups and could not find a single other service that has all of the tools that 3Commas offers together in one single easy to use platform. With this platform you get all of these tools together in one platform. Currently they are the only platform that gives this type of service and we have a feeling they will be getting tens of thousands of sign ups in the next few weeks, which might make it harder to sign up later on so we do recommend signing up now while it is still free and open.
Conclusion
We are really looking forward to more updates from 3Commas it seems that they are doing a great job at filling in all of the gaps for tools needed in the cryptocurrency trading arena. We hope to see a signalling service in the near future and integration for more exchanges and more cool tools in the dashboard but for now we already give this platform a 5 out of 5 stars rating and truly recommend signing up with 3Commas. Within the same amount of time that it took you to read this review, maybe 4 or 5 minutes, you can sign up to 3Commas, connect your various accounts from crypto exchanges around the world, copy a few of the top traders and even have extra time to open a few trades!