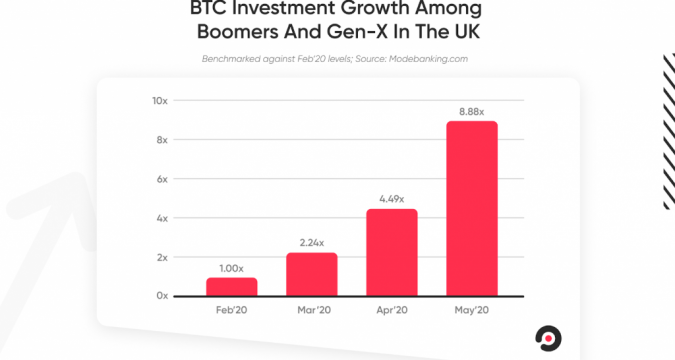 Baby-Boomers (born between1946-1964) and Gen-X (born between1965-1980) investors have increased their Bitcoin (BTC) investment every month within the time frame of the pandemic lockdown. According to the report from the U.K. cryptocurrency trading mobile app Mode Banking, these old generation investors have doubled down their BTC investment since the month of February when the COVID-19 Pandemic global lockdown was started.
Boomers and Gen-X invested in BTC 8x more in May
The Mode Banking app's report reveals that the interest of the older generation investors in Bitcoin has been growing month by month since the start of the pandemic lockdown. Boomers and Gen-X investors' BTC investment doubled each month as in the month of March it doubled from 1.00x to 2.24x. In the month of April, the uptick in Bitcoin investment reached 4.49x. These old-gen investors invested in Bitcoin 8.88x more in the month of May.
This clearly shows that they have been doubling down their Bitcoin investment every month. Mode presented a chart showing a significant increase in monthly BTC investment by Baby-Boomers and Gen-X.
Commenting on this latest finding, the Chief Product Officer at Mode Banking Janis Legler said:
"We believe these to be very interesting findings, and although the reasons for this could be manifold, they could potentially reveal an unprecedented change in the way investors think today, as a result of the global pandemic."
The report also outlined the average month-on-month growth in BTC investment among various generations and noted that Millennials and Gen-Z were dominating with 118% growth in BTC investments before the COVID-19 and 125% growth during the COVID-19 period.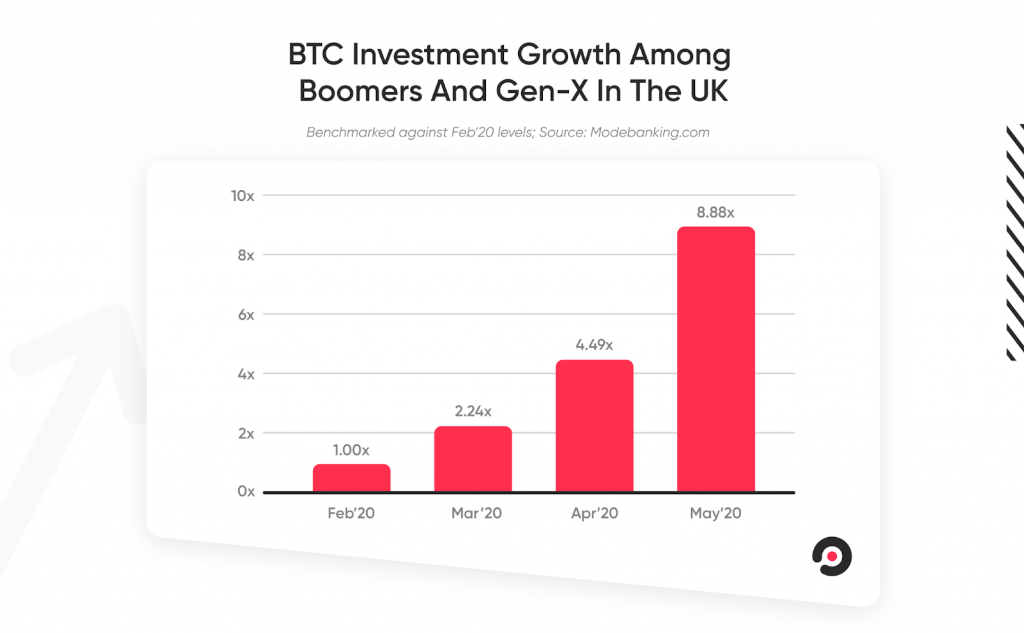 A signal to Bitcoin adoption
The doubling of BTC investment by Baby-Boomers and Gen-X investors is referring to the rapid adoption of Bitcoin and shows that Bitcoin exposure among older buyers is increasing.
Buy Bitcoin With Credit Card, How To Invest in Bitcoin (BTC)
While sharing his thoughts, Legler also added that the top-ranked digital currency is increasingly getting popularity among various age groups. Legler said at the end, "We expected Millennials to continue buying into cryptocurrencies, but to see more experienced investors also become increasingly interested in Bitcoin is extremely promising for the growth of the industry."