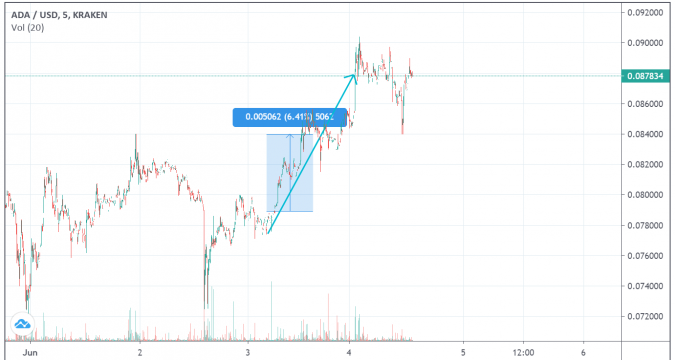 Cardano (ADA) Price Analysis
Cardano has once again performed better than the rest of the crypto market as the price value of ADA recorded more than 6% gains in just a single day and reached its bullish mark of $0.087 around where it is currently maintaining itself. Where the other market is trying to recover the previous losses, ADA is recording more and more gains. Cardano (ADA) has even entered into the list of top ten digital assets by market capitalization and is holding the tenth spot at the moment. According to the CoinMarketCap data, the ADA price value is up +2.84% holding the $0.086 mark at the press time.
Buy Cardano With Credit Card,
How To Invest in Cardano (ADA)
Cardano Price reaches $0.087
Cardano was trading on $0.077 on June 3, 2020, and after a little while, it started recording positive gains. On the last day, it gained a total of 6.7%. After fluctuating around the $0.082 level for a while, the coin was able to jump to $0.087 level on June 4, 2020. Before residing around this level, the coin briefly stayed at $0.09 as well. This was the highest value that ADA gained in the past year.
When the ADA price was making positive moves yesterday, the rest of the market was only experiencing slight gains.
ADA faces the huge $0.10 resistance level ahead
The RSI indicator suggests that the price value of the tenth-ranked coin is now facing a huge resistance of the $0.10 level coming ahead after making its way towards $0.087. Now we have to see how the ADA coin copes up with this powerful resistance level. The best thing that can happen for Cardano (ADA) in the short-term case scenario is that it should break up this resistance and make it its support for the long-term trend. The RSI indicator suggests that this might happen in the upcoming days or weeks.
The recent announcement of the long-awaited Shelley network upgrade has impacted to the much extent the price value of the coin. The ADA coin started scoring back to back gains shortly after the announcement. Last week, it scored 44% gains while the coin has been able to put on the board 17% of gains so far this week as well.
Best Trading Software For Trading Cardano
ROBOT

RATING

PROPERTIES

TRADE

Free to use

88% Claimed win-rate




$250 Min Deposit




Accepts Debit and Credit Card

  Trade Cardano Now