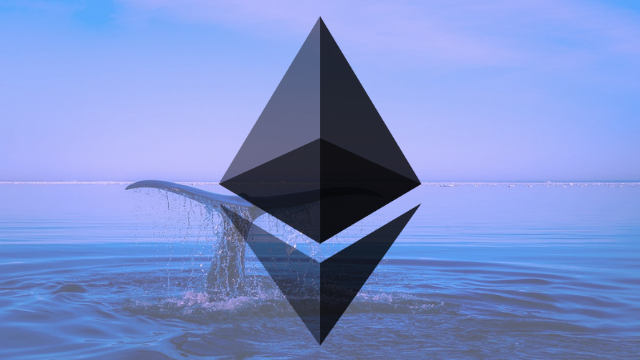 A transaction of 125,000 ETH worth 32,812,500 USD was recorded by Whale Alert, the tracker of crypto transactions. The transaction was done between two unknown wallets.
After the time interval of 11 hours, the same Eth assets moved from the latter one to the first wallet in a back and forth manner. Whale Alert censored every big transaction such as from whale investors or exchanges. But this time, the two transactions between the two unknown wallets have raised some questions.
ROBOT

RATING

PROPERTIES

TRADE

Best Choice

88% win rate – Not a Scam




$250 Min Deposit




Accepts Debit and Credit Card

  Trade NowRead Review
According to the Whale Alert's post, the first transaction was made on Feb.21, at 20:30:55 UTC. Per the alert, 125,000 Eth was transferred from the address 0x7d6149ad9a573a6e2ca6ebf7d4897c1b766841b4 to 0x1c11ba15939e1c16ec7ca1678df6160ea2063bc5.
🚨 🚨 🚨 125,000 #ETH (32,482,631 USD) transferred from unknown wallet to unknown wallet

— Whale Alert (@whale_alert) February 21, 2020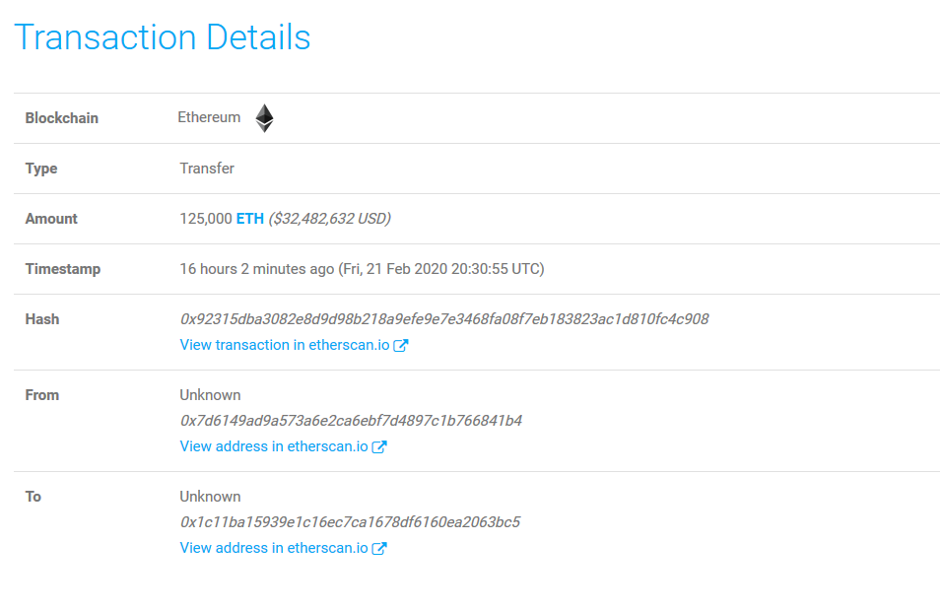 After the interval of nearly 11 hours, Eth worth 32,812,500 USD transferred back to the first address. The second transaction was monitored by Whale Alert on Feb.22 at 07:00:45 UTC.
🚨 🚨 🚨 125,000 #ETH (32,521,381 USD) transferred from unknown wallet to unknown wallet

— Whale Alert (@whale_alert) February 22, 2020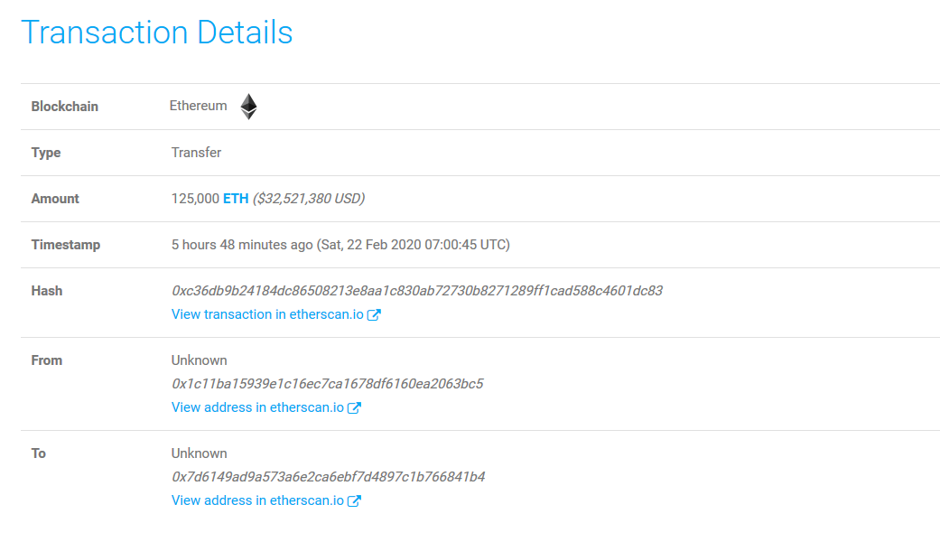 Price Manipulation by Crypto Whales
The crypto whales have a very deep influence over the crypto markets. Sometimes, they try to manipulate the price of digital coins by adding or removing investment from the crypto cap. The history of the Whale Alert shows that how whales have manipulated price by transacting crypto assets from one wallet to another.
The recent back and forth transactions seem to be for a particular purpose. Due to the engagement of unknown wallets, it is difficult to curb the reason behind it. At the press time, Ethereum is standing at $262.16 with a 1.05% decrease in the past 24 hours. This shows that Eth giant transactions did not influence the price value at all.
Threat to Decentralization
Sometimes, the crypto community takes the matter very seriously and oppose tactics as these are against the decentralization. For example, as Ripple released the tokens from the escrow wallet, few people blamed Ripple for manipulating the price value of the Ripple token.
However, these claims are, sometimes, true because whales always try to control the price value of the bitcoin. They do because they want to create a selling pressure or to enter into the bullish zone by removing or adding crypto assets to the total market cap.
ROBOT

RATING

PROPERTIES

TRADE

Best Choice

88% win rate – Not a Scam




$250 Min Deposit




Accepts Debit and Credit Card

  Trade NowRead Review