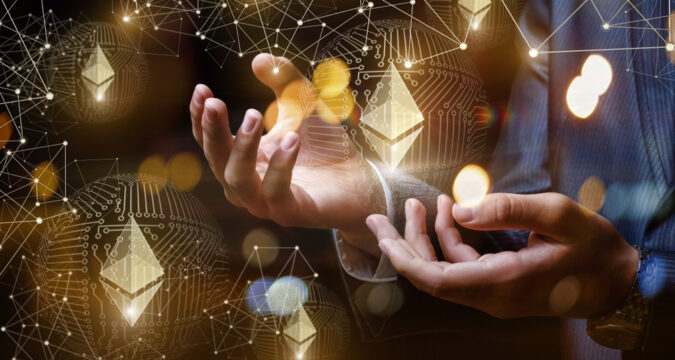 Today, Ethereum's price remains level as the alt utilizes the 20-day Moving Average as support near $3,200. Against Bitcoin, Ethereum holds price support around 0.066 BTC as it tries to break over a descending channel.
ETH/USD – Ether's Symmetrical Triangle
Vital support levels – $3,150, $2,985 and $2,890
Vital resistance levels – $3,350, $3,540, and $3,700
Since increasing from $1,800 at July's end towards August's $3,350 resistance, ETH saw its price consolidating in a symmetrical triangle formation. The token tried to break the resistance aT bearish .618 Fibonacci ($3,350) four times but failed.
Recently, Ethereum has utilized the 20-d Moving Average as its support as the altcoin battles to maintain over the level, consolidating inside a triangle.
ETH/USD Near-Term Price Forecast
Ahead, the initial support locates at $3,150 (triangle's lower angle). The following supports are .236 Fibonacci ($2,985), 42,890, .382 Fibonacci ($2,740) and .5 Fibonacci ($2,545).
Meanwhile, the initial resistance level lies around the triangle's upper angle. The next one is bearish .618 Fibonacci ($3,350). Above this, ETH-USD's resistances are at 1.618 Fibonacci extensions ($3,540) and $3,700.
On the other side, the Relative Strength Index makes lower lows, indicating bearish divergence hints. Such actions depict an impending retracement.
ETH/BTC – Ethereum Tries to Break Descending Channel
Critical supports – 0.066 Bitcoin, 0.0651 Bitcoin, and 0.0632 Bitcoin
Critical resistance – 0.0673 Bitcoin, 0.0691 Bitcoin, and 0.07 Bitcoin
Ether has traded within a descending channel since the failure to crack the 0.07 BTC resistance in mid-August. The asset claimed reliable support near the 100-d Moving Average and 0.065 BTC (0.05 Fibonacci) last week before rebounding.
The last five days saw ETH holding over 0.066 BTC. For now, it attempts to crack the channel's upper angle.
ETH/BTC Near-Term Price Forecast
The pair has its initial resistance at the 20-d MA (0.0673 BTC). The following are 0.0691 Bitcoin, 0.07 Bitcoin, bearish .618 Fibonacci (0.072 Bitcoin), and August high (0.0733 Bitcoin). Meanwhile, the nearest support locates at 0.066 Bitcoin, followed by .5 Fibonacci and 100-d MA (0.0651 Bitcoin), .618 Fibonacci (0.0632 Bitcoin), and 0.062 Bitcoin.
The RSI hovers at the midline, suggesting market indecision. The indicator will need to climb above the midline for a bullish momentum beyond the asset's price channel.
Stay around for the latest market updates.