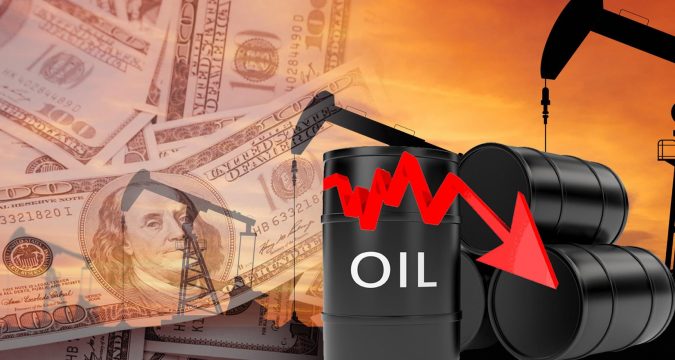 Oil Price Crash
The effect of Coronavirus is limited not only to one region or country, but the whole world is experiencing its impacts on the economy. The financial markets are badly affected by the fears amid COVID-19. On Monday, the May Futures of the West Texas Intermediate crude (WTI) went below $0 for the first in history. The waves of the recent oil crash do not spare the top leading asset Bitcoin as the price value shows a bit bearish pattern.
Price Went Below $0
The sellers were active yesterday sending price value of the crude oil of North America's Benchmark to its all-time low position- below $0. The sudden downfall of the oil price shocked financial gurus and even sparked a negative impact on the other stocks as well. For example, S&P 500 witnessed a decrease of 1.8 % in its value.
The crash of US oil prices happened due to Coronavirus pandemic as stock markets also plummeted largely in the mid-March, witnessing record lows. Most of the countries are under lockdowns, and under this condition, the demand for oil is very low. The reserves of oil refinery companies are accumulating, thus losing the interest of traders and investors.
Not only equity markets become the victim of the recent crash but the leading digital asset Bitcoin also goes down. This behavior is the cancellation to the so-called statement that both digital assets and traditional assets are not correlated. For example, following financial markets' downfall, Bitcoin lost half of its value on March 12 and 13.
Is Bitcoin not a Safe-Haven Asset?
Again, the trend goes against the claim that Bitcoin is a "safe-haven" asset in times of uncertainty as the coin price value also plummets in the past 24-hours amid oil price crash. However, the upcoming halving event can edge the price value upward.
At the press time, Bitcoin is trading at $6.857, losing 3.22 percent of its value in the past 24-hours. Yesterday, it was exchanging hands at $7,200, thus price loss credit goes to the US oil markets.
Matthew Dibb, the co-founder of Stack, said:
"The downside in BTC is more likely attributable to losses in the equities market, which may be directly or indirectly affected by Crude prices, than the downward trend for crude directly."
However, the digital gold (Bitcoin) failed to perform well, and per the technical point, the next target might be at $6,472 in case of price slipping.