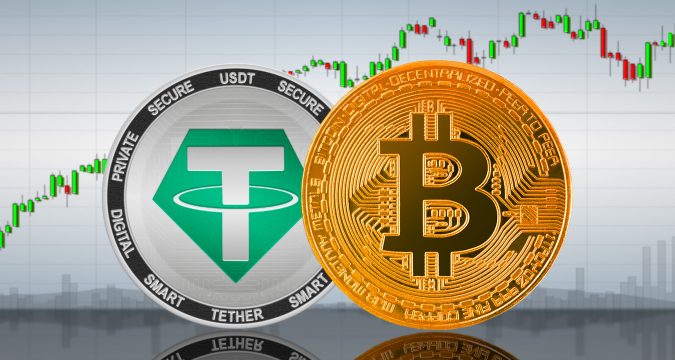 The world's most famous stablecoin Tether (USDT) has emerged as the most popular trading pair on various cryptocurrency exchanges surpassing the world's largest cryptocurrency Bitcoin (BTC) in dominance. According to the new data, the Tether (USDT) stablecoin has become a dominant trading pair on digital currency exchanges. Bitcoin has been dominating cryptocurrency exchanges as a famous trading pair in the past but nowadays it is Tether which is showing dominance.
Tether now counts for 70 percent of crypto exchanges' trading volume
Back in 2017, the trading pairs with the top-ranked digital asset Bitcoin (BTC) counted for the majority of the trading volume (50 percent) of cryptocurrency exchanges, according to the data from The Block Research. United States Dollar (USD) counted for 40 percent of the exchanges' trading volume. While on the other hand, only five percent of the trading volume used to be in Tether (USDT) pairs.
However, now, the case is different. According to the new data shared by The Block Research, the stablecoin Tether's trading pairs count for approximately 70 percent of the total cryptocurrency exchanges' trading volume. While on the other hand, the leading cryptocurrency in the world Bitcoin's trading pairs only comprises 15 percent of the volume. This clearly shows that the Tether stablecoin has emerged as a dominant trading pair on digital currency exchanges over the course of the recent time.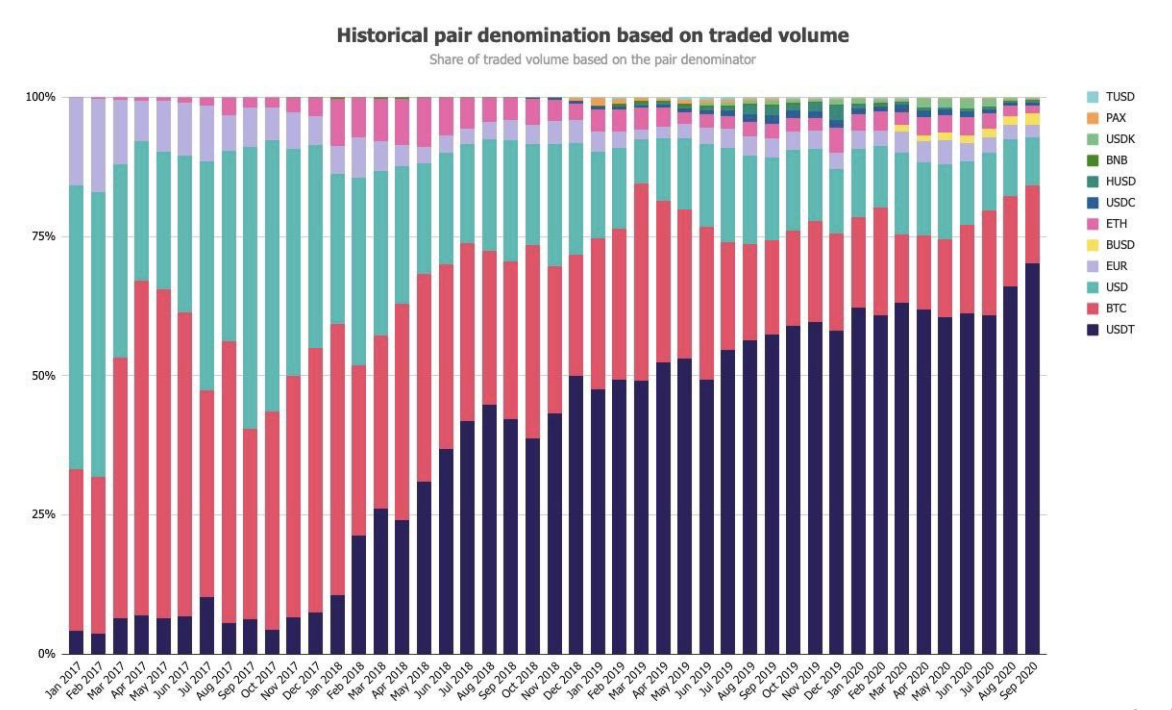 The reason behind the rising dominance of Tether as a trading pair across different exchanges might be the one that the Seychelles-based cryptocurrency derivatives exchange BitMEX that only supports Bitcoin (BTC) as collateral has witnessed a significant drop in its dominance in the cryptocurrency market because of the fact that it is facing a filing in the United States court. Its co-founders were charged with operating an illegal trading platform and violating regulations by the US Commodity Futures Trading Commission at the beginning of the month of October. This incident affected greatly the major derivatives exchange. Other cryptocurrency exchanges that support Tether such as Binance, OKEx, and Huobi are dominating now.
However, in terms of market capitalization, Tether is still behind Bitcoin (BTC). Tether is ranked at the third spot and has a market cap of $15,830,744,469 USD. While on the other hand, Bitcoin is still holding the top position with a market cap of $211,363,718,977 USD.