As the price value of LINK the native cryptocurrency of Chainlink surged high to its new highest value of $16.25 of 2020 on November 24, the holders of the coin also started to gather LINK tokens in larger amounts in their wallet addresses. New data shows that the number of Chainlink addresses holding 1000 LINK or more has spiked high during the past month.
In a tweet posted recently, the behavior analytics platform Santiment reported that the number of addresses holding more than 1,000 LINK tokens has risen high by 445 within the duration of just one month. It is a significant increase in this metric of Chainlink seen this month as compared to the previous one. Santiment's Holder Distributions' data shows that Chainlink saw a potential increase in the growth of its high-end investors.
The team behind Santiment also posted a chart that shows LINK whales have been increasing over the past month.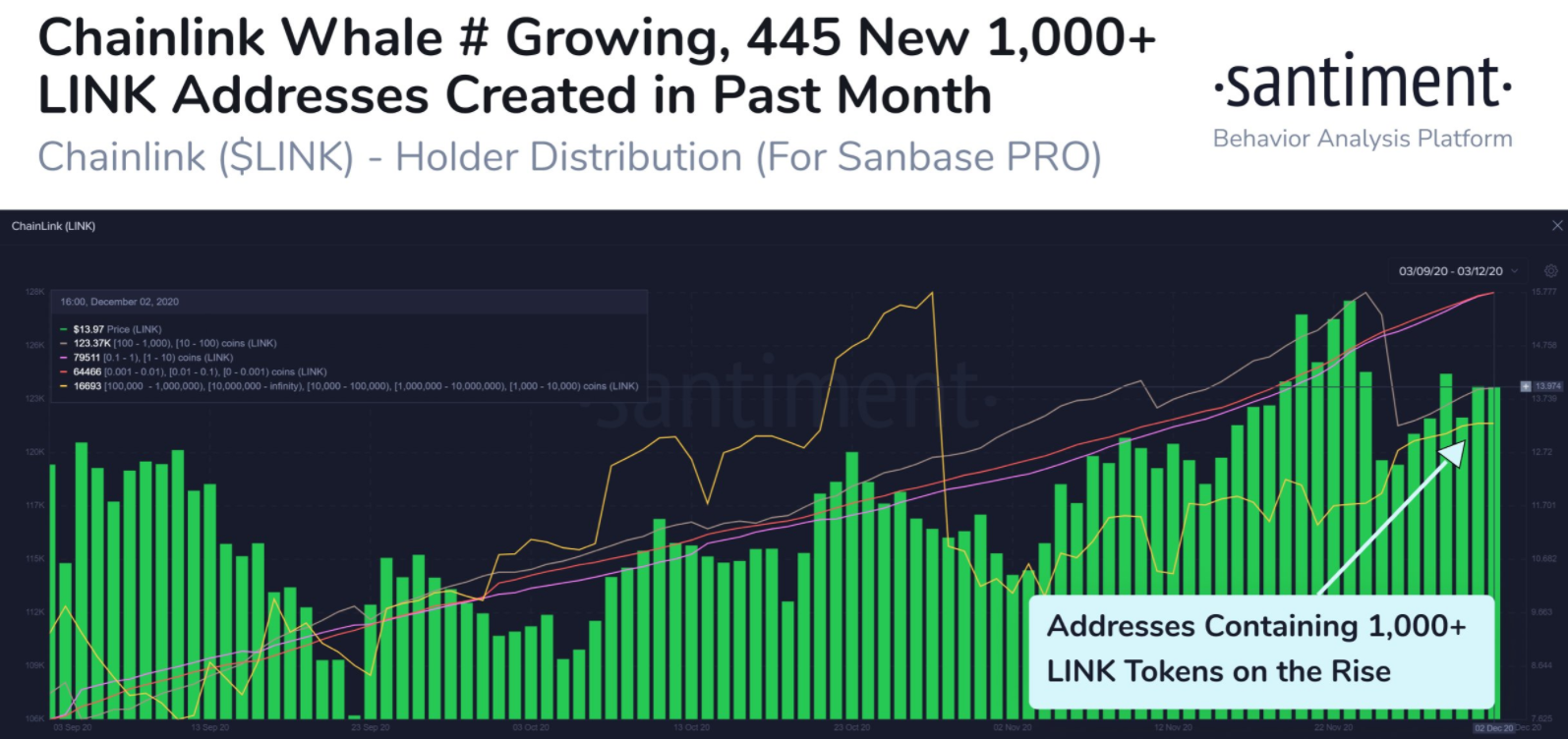 Source: Santiment
The surge in the addresses holding 1k coins is a positive indicator for the price value of LINK. This positive factor can drive the price growth of the seventh-ranked cryptocurrency to a new peak level in the coming days. Sentiment said:
"The behavior of whale holders tends to be among the best leading price indicators on @santimentfeed, and the rise is encouraging following the drop in whale addresses in late October (coinciding with $LINK's drop)."
Chainlink (LINK) holders should keep a close eye on the price movement of the coin in the coming days as a significant move is expected from the coin.
LINK's price value is trading at around $13 but in the downward direction
While on the other hand, the price value of LINK is continuously trading in a downward direction for the past few days. Like other major altcoins, LINK also showed an impressive performance during the past month and reached its yearly high value of $16.25 on November 24. However, its price value is slightly moving in a downward direction since the beginning of this month. At the press time, the price value of LINK is holding at around $13 with a negative price increase of -1.70 percent in the past 24 hours.
LINK is also on the verge to overtake Bitcoin Cash (BCH) to become the sixth-largest cryptocurrency in terms of market capitalization. Currently, the market capitalization of LINK is standing at around $5.1 billion while on the other hand, BCH's market cap is holding at around $5.2 billion.