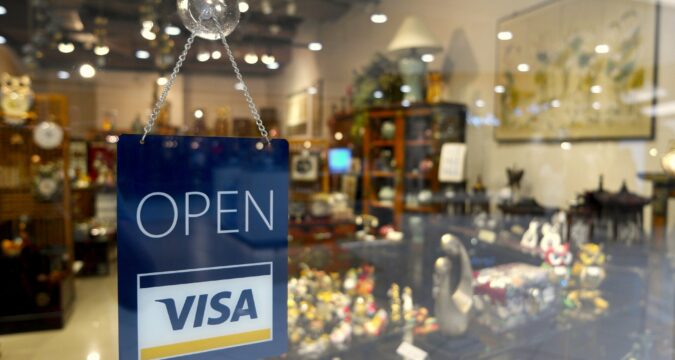 The leading American financial services company Visa is likely going to integrate the world's second-largest stablecoin USD Coin (USDC) into its credit cards. By linking the USDC stablecoin into its payment network, the credit card firm is providing its broader customer base an opportunity to send or receive payments in this stablecoin.
Visa Partners with Circle Internet Financial
As reported by Forbes on Wednesday, the payment giant has signed a partnership agreement with Circle Internet Financial also known as Circle which is a blockchain services firm and the company behind the USDC stablecoin. This UD Dollar (USD)-pegged stablecoin has been created on the public Ethereum blockchain by Centre which is a consortium established by the leading San Francisco-based cryptocurrency exchange Coinbase and Circle.
This partnership agreement with Circle Internet Financial will allow Visa to add USDC payment capability into its credit cards and connect its payment network of 60 million merchants to this popular stablecoin. Now all of the businesses from across the whole world would be able to make Visa-supported payments to any other business internationally using the USDC stablecoin.
Commenting on this, the Head of Cryptocurrency at Visa Cuy Sheffield said in a statement, "This will be the first corporate card that will allow businesses to be able to spend a balance of USDC. And so we think that this will significantly increase the utility that USDC can have for Circle's business clients."
Talking further about the importance of stablecoins and blockchain networks, Sheffield said:
"Blockchain networks and stablecoins, like USDC, are just additional networks. So we think that there's a significant value that Visa can provide to our clients, enabling them to access them and enabling them to spend at our merchants."
This announcement of making a partnership with Circle and supporting USDC Credit card has come following the recent addition of Circle into the Fast Tracking Program by the payment giant. As per the report of Forbes, Visa has revealed that it would not custody any USDC token rather the company Circe will be collaborating with Visa credit card issuers while assisting them in the integration of the USDC software into their platforms.
A range of Blockchains now support USDC stablecoin
The dollar-pegged stablecoin is not only supported by the world's second-largest blockchain network Ethereum but some other major blockchains also support this famous stablecoin. Currently, there are four blockchain networks that have announced support for the USDC stablecoin. These include Ethereum, Algorand, Stellar, and Solana. As the popularity of this stabecoin is growing further, many other major blockchain networks may add support for it.