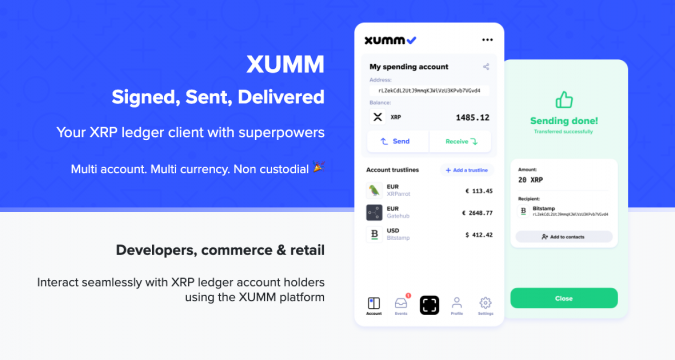 XUMM Wallet
XRPL Labs has announced on July 22, 2020, that it is going to release the beta 5 version of the XRP-based XUMM wallet. This latest version of XUMM includes fifty major improvements in it and some other bug fixes as well. Sharing details on Coil in a blog post, the XUMM team said that these bug fixes and improvements have been added to this newer version of the app after receiving feedback from the community.
According to the tweet from the XUMM team, the beta 5 version of the XUMM wallet is set to undergo now final testing by a small group of developers.
The new #XUMM 0.5.1 Beta release has just been released to a small group of developers for final testing. Thank you very much for the trust, testing, feedback & suggestions XRP Community!

Release notes: https://t.co/FMU6ECqzE7

⏱️ Expected public release: next week 🎉

— XUMM Wallet (@XummWallet) July 22, 2020
The team has also appreciated the efforts made by the community which provided feedback to the team helping them to make their XUMM Wallet app better.
Numerous Major Improvements
According to the report, fifty major improvements have been made into this newer version known as beta 5 (0.5.1) by the team of the XUMM app. One of the improvements added to the app is that the transaction details page has been redesigned. Users can view more information on this updated transaction page including time and date.
Apart from this, another feature that has been included in this version is the Discreet mode. The benefit of this feature is that users can hide their balance details and account addresses which appear on the start of the application. The issue of XRP Ledger's connectivity has also been resolved and improved which was faced by the users in the previous version. Several other bugs were also fixed reported by the community in the feedback. The newer version also shows support for checks and branding.
XUMM is based on Ripple's XRP and therefore shows support for the PayID cryptocurrency payment solution which was released by the company Ripple in collaboration with its over 40 partners. Brave, Blockchain.com, Bitgo, and Huobi are the ones who collaborated with Ripple on this project. Along with the XUMM Wallet, this payment solution is also integrated with RippleNet as well.