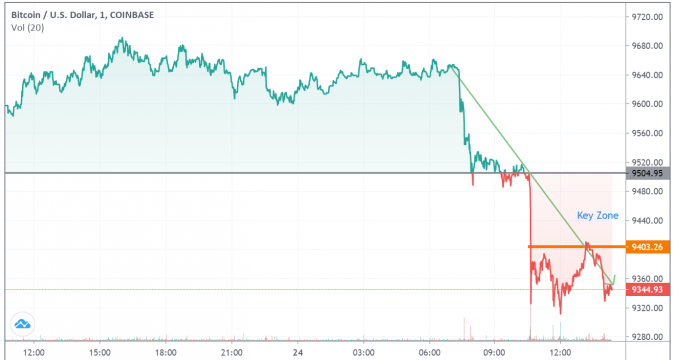 After registering a technical price surge up to $9600 yesterday, the top-ranked digital asset once again plunged down to $9300 zone today on June 24, 2020. Bitcoin was holding bullish sentiments in the market yesterday and was residing above the $9.6k price level with the help of bulls but eventually, the bull's grip got weakened giving bears a way to enter into the market. As a result, Bitcoin's price dropped by 2.7% and is currently trading even down at -3.20%. Analysts suggest this drop might be because of miners' sell-off.
Apart from the leading digital coin, almost all of the other top-listed coins are also trading bearish at the moment.
BTC/USD Chart – Bitcoin needs to hold at $9400
Bitcoin is hovering around 50-Day EMA and has got the support of the $9200 area. If we look at the current sentiment of the leading coin in the market, it seems bearish and if this bearish sentiment carries on in the coming days, it may send Bitcoin price down to the $8,800 area where the coin won't like to go at the current moment when it aims to break through its historic resistance level.
As the above-shown chart shows, the key zone for Bitcoin now stands at around $9400 where Bitcoin's price needs to stay. If Bitcoin bulls are able to hold BTC price at this key zone, there is likely a chance for Bitcoin to reach $9,900 in the short-term case scenario. Therefore, it is crucial for Bitcoin to turn the $9400 price zone into its support.
BTC Price Prediction
If Bitcoin succeeds to reside in its critical zone of $9400 then it will certainly face some resistance levels on its way towards hitting around $9.9K. The key resistance levels that Bitcoin's price may face stand at $9.6k, $9.7k, and $9.8K respectively.
However, traders and analysts are also expecting a sudden price drop to $9,100 after Bitcoin hits its possible target around $9900.
Price value of Bitcoin
At the press time, the price value of Bitcoin is standing at $9,282.45 USD with a change rate of -3.79% in 24 hours.