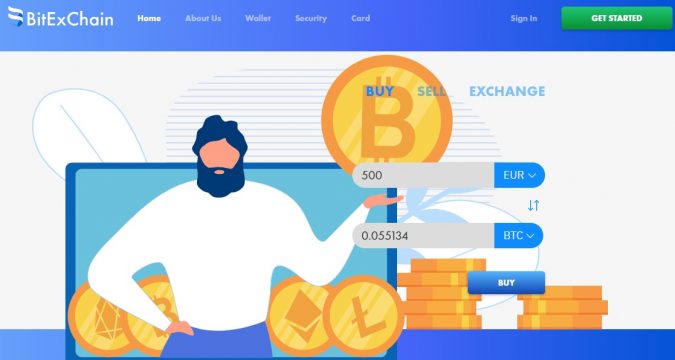 BitExChain
Summary
Opting for BitExChain is an excellent cryptocurrency exchange that allows you to purchase digital assets quickly and also provides you solutions for storing it. They have top of the line security measures that provide you a secure environment and the exchange charges affordable and competitive fees and provides responsive customer support to complete the package.

More than a decade ago, someone named Satoshi Nakamoto introduced the first every cryptocurrency to the world named Bitcoin. The mysterious founder had aimed to introduce a payment system that would be free from any kind of interference by any central authority or third parties and would grant anonymity to the user. Initially, people had been skeptical about its effectiveness, but with the speed of technological advancement, cryptocurrency has now become a global phenomenon. There was a lot of resistance from governments and financial institutions like banks, which control regular currency. Even now, cryptocurrency remains unregulated and is extremely volatile.
However, it cannot be denied that it has come a long way since then. Bitcoin, in particular, enjoys a lot of popularity in the cryptocurrency market as it is the leader in terms of market capitalization. After its introduction in 2009, it wasn't until December 2017 that Bitcoin really stepped into the limelight. This was when Bitcoin achieved its famous price of $20,000 and other cryptocurrencies also experienced an increase in their respective price. At that time, investors who had been smart enough to purchase Bitcoin and these other cryptocurrencies finally gained their reward as they became millionaires overnight.
It was unexpected, but it pushed these cryptocurrencies at the forefront and cryptocurrencies like Bitcoin haven't slowed down since then. Today, there are literally thousands of cryptocurrencies that you can find in the market and invest your money in them. Obviously, Bitcoin attracts the most attention, considering the fact that it is the first cryptocurrency and also the leading one. Moreover, there is also a cap to how much Bitcoin will exist and the limited supply means that it will have a high demand. Other than Bitcoin, some cryptocurrencies like Ethereum and Litecoin have also experienced a surge in their demand.
Anyone looking to make money would certainly be interested in purchasing these cryptocurrencies. There was a time when doing so was easier said than done. Lots of people were selling Bitcoin and other cryptocurrencies online, but you couldn't say if they would follow through or not. To help people purchase in a legitimate way, the concept of cryptocurrency exchanges was introduced. With time, the number of these exchanges has grown exponentially and today, you can find hundreds of such exchanges operating in the market. They provide those interested in cryptocurrencies a platform for making their purchases in order to take advantage of their potential.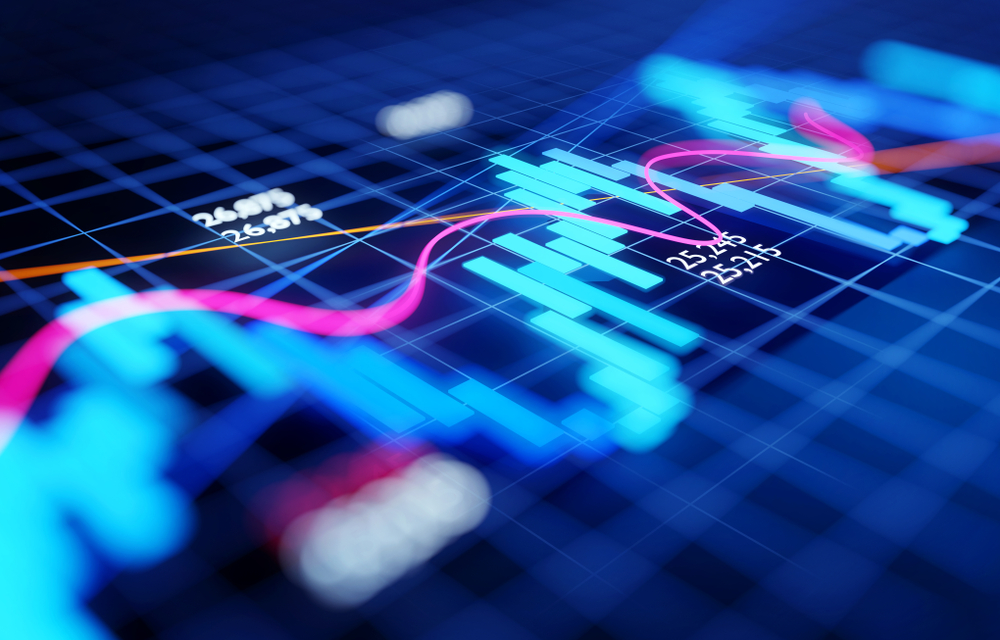 If you want to do the same, you can easily come across a variety of cryptocurrency exchanges. The only problem is that not all of these exchanges are reliable. Some of these exchanges are downright shady while others don't use proper security measures. You have probably heard about cryptocurrency exchanges being hacked and the data and cryptocurrencies of their clients stolen. In order to avoid this, you have to find a reliable and legitimate cryptocurrency exchange. This is easier said than done, especially considering the number of exchanges currently operating in the market.
BitExChain Review
Every exchange is going to claim to be the best one, but only a few will be able to live up to their claims. Amongst the various options, you will also come across BitExChain. This cryptocurrency exchange was founded by a company registered and licensed in Estonia and named CoinFarm OU. The company provides a registered and operational address and you can easily verify its legitimacy. It is certainly reassuring because you know that the exchange will not vanish overnight with your cryptocurrency as it is properly registered and regulated. In addition, it also means that the exchange will follow certain rules and guidelines to provide quality services to its clients. Let's take a close look at BitExChain to discover exactly what it does for you.
What Services does BitExChain Provide?
Due to the increase in demand for secure and trustworthy cryptocurrency exchanges, BitExChain was introduced. This cryptocurrency exchange is designed to help people in purchasing digital assets easily, quickly and in a secure way. The best thing about this exchange is their system functions smoothly and is very straightforward, which means that even beginners will have no trouble in figuring out what to do with it. When you sign up with BitExChain, you can buy and sell Bitcoin as well as Litecoin. These are the digital currencies that the exchange is offering to its clients for now and are working on increasing their offerings to further facilitate their clients.
You have the option of easily switching between the digital currencies that are provided in the system. However, this is not where its services end. BitExChain has also gone as far as providing its clients with a free wallet for storing the Bitcoin and Litecoin they purchase. This saves people from the hassle of worrying about storing their cryptocurrencies elsewhere and putting them at risk. Buying and selling Bitcoin and Litecoin has never been as simple as it is with BitExChain.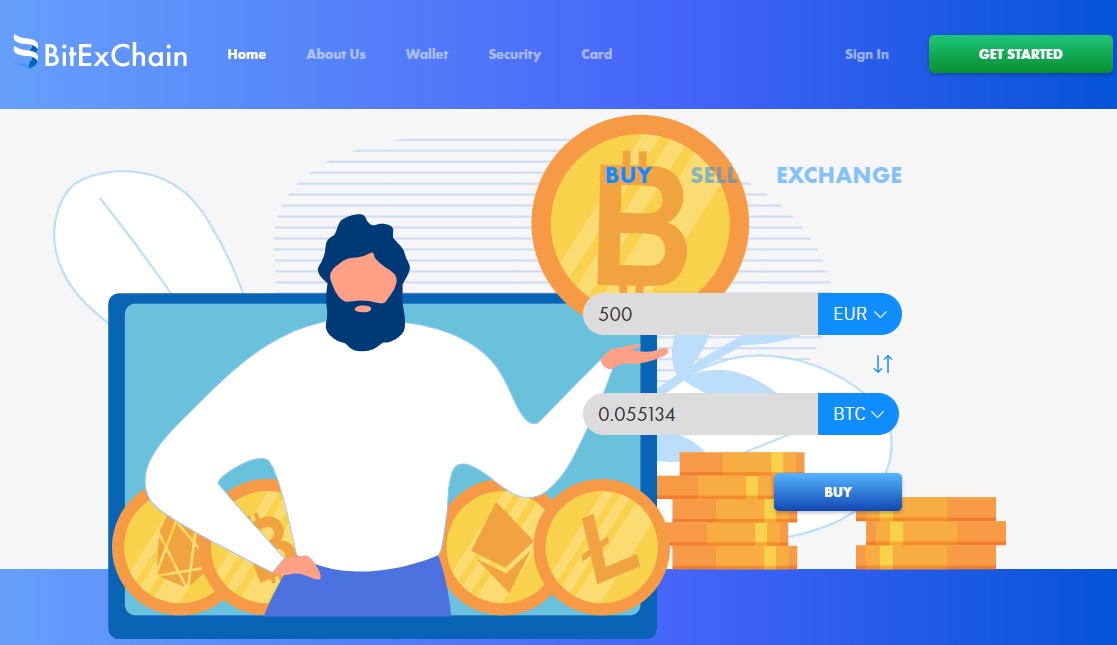 How to Register with BitExChain?
One of the common issues that most people have with cryptocurrency exchanges is their complicated and lengthy registration process. Most crypto exchanges ask their clients to provide lots of details and information, which eats up valuable time. Furthermore, they also have to wait for their account requests to be approved, adding more to an investor's frustration. Fortunately, BitExChain doesn't follow the same path as their registration process is extremely easy to complete and doesn't require you to spend hours completing it.
To begin the registration process, you need to go to BitExChain's website and click on the Get Started option. Doing so will open up an online form that has to be filled out. The form asks you to provide basic information, such as first name, last name, the country you live in and phone number. You are asked to enter your email address and then choose a password. Account currency also needs to be selected and there are four options provided to you in this regard, which are USD, EURO, GBP and South African Rand.
The form also asks you if you are a politically exposed person (PEP) and then asks you to confirm that you are above 18 and ready to agree to its terms and conditions. As long as you don't have a problem, you can accept it and click on register. Typically, the confirmation is immediate, but in some cases, the information may have to be verified. Nonetheless, it doesn't taken more than 24 hours for it to happen. After you have registered, you can send, receive and exchange cryptocurrencies through BitExChain. But, if you want to purchase and sell cryptocurrencies through the exchange, you need to verify your personal information in accordance with the KYC and AML policies.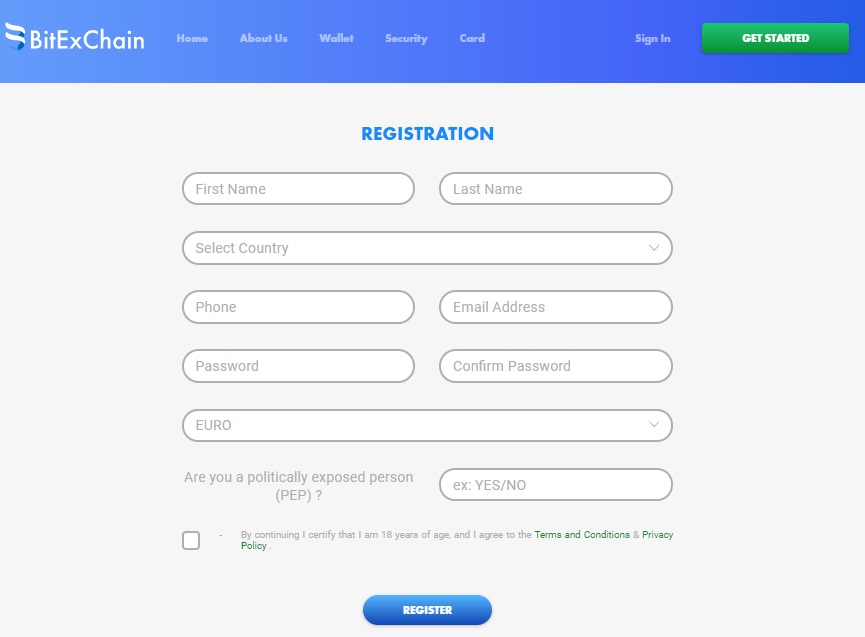 What Security Policies Does BitExChain Use?
As mentioned above, in order to start purchasing cryptocurrencies via BitExChain, you first need to verify your personal information. This is part of the cryptocurrency exchange's security process as identity verification prevents any cybercriminals from gaining access to their platform. Moreover, it is part of the Know Your Customer (KYC) policy and the exchange has to comply with it as part of its regulation. According to this policy, investors have to submit proof of identity and proof of residence before they can use their account to make purchases via the exchange. To give this proof, you are asked to submit certain documents to the exchange, which they will verify.
To start with, proof of identity can be provided by submitting a national ID card, passport or driver's license in your name. In order to give proof of residence, you are asked to provide a bank statement, utility bill or any other document that shows your name and home address. BitExChain also has to comply with the AML (Anti-Money Laundering) policy and this requires investors to submit pictures of their credit card, front and back, if they want to use it on the crypto exchange. They also have to submit a selfie along with the card so the pictures can be compared.
These verifications are necessary to complete if you want to access the full services provided by BitExChain. This is in accordance with international regulators and only when your information has been verified, you will be able to buy and sell cryptocurrencies against fiat currency or be allowed to make fiat currency deposits and withdrawals. This is aimed at reducing the possibility of money laundering and to prevent the use of funds for any illicit purpose.
Along with these policies, BitExChain also has a privacy policy in place that's designed to reassure its clients about how their information will be used. It is perfectly normal to be apprehensive when you are sharing such information with a cryptocurrency exchange. You don't have anything to worry about because they do not share your information with any third-parties and only use it for providing you their services. The data is used for communicating with the clients and for delivering personalized and improved services. It is only retained for this purpose for as long as needed according to legal requirements.
BitExChain also takes the protection of your personal information quite seriously. They understand that cybercriminals would want to get their hands on such sensitive data and so they have implemented industry-standard data encryption technology. In addition, they have also implemented restrictions regarding the storage of this data as well the ability of people to access it. Even if the data falls into the wrong hands, it cannot be understood because of excellent encryption.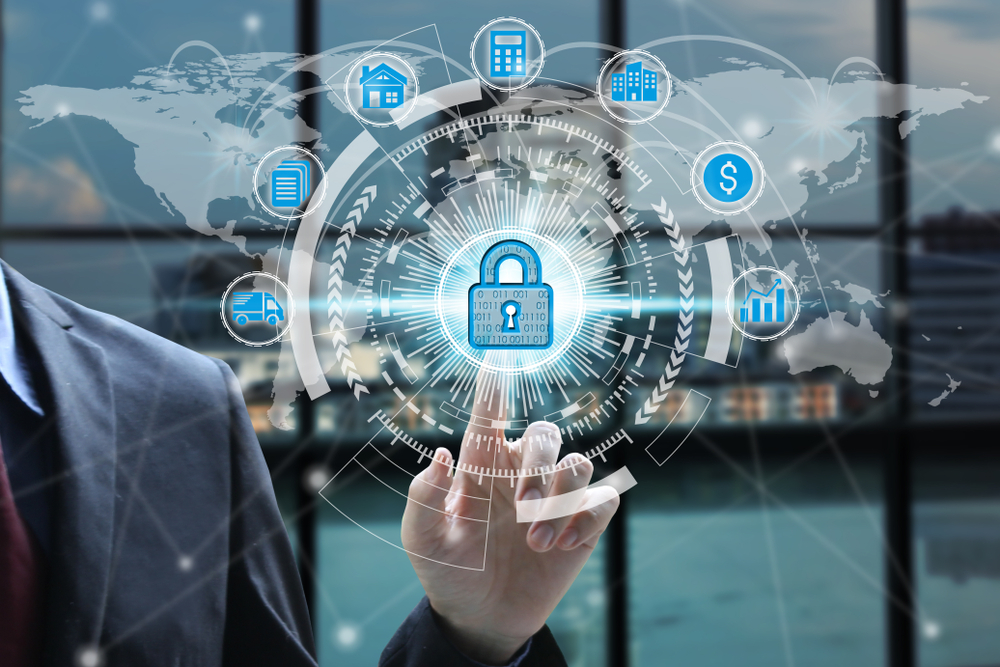 What Kind of Wallet Does BitExChain Offer?
Once you have ascertained the security protocols used by BitExChain and have completed the necessary steps for verification, you can start buying Bitcoin or Litecoin, as per your preference. But, before you do that, you need to figure out where you will keep it. You need to have a safe space for storing your digital assets or else they could be stolen and your money will go to waste. Cryptocurrency wallets are designed for this purpose and there are a horde of options that you will find in the market.
You just need to run a quick Google search and you will be presented with numerous options that you can explore. But, once again, you can never be sure which wallets are reliable. There have been security concerns in this regard as well and so BitExChain decided to offer its clients with an easy solution. They have introduced their own cryptocurrency wallet that you can use for storing your digital assets. It is extremely convenient because it saves you from the hassle of having to look for a crypto wallet and completing its formalities and then transferring your assets.
With BitExChain, you can get access to an innovative, unique and secure cryptocurrency wallet that can protect and hold your investments for as long as you want. Currently, the cryptocurrency exchange offers Bitcoin and Litecoin wallets that you can use for sending, receiving, exchanging and even selling your cryptocurrency. One important thing you need to know about the exchange is that every time you send or receive funds from the wallet or the exchange transfers them between the online and offline wallet, they change the wallet address.
The purpose of doing so is to ensure that no third-parties can track your wallet and it is recommended that you check your address carefully before you take any action. Thus, you will have multiple addresses for your Bitcoin and Litecoin wallets because a new address is generated every time there is any fund movement. This certainly gives investors peace of mind in regard to security. Another advantage of the BitExChain wallet is that the exchange gives you complete control over your funds. They keep customer funds separated from their own, so you don't need to worry about any misappropriation or any such issue.
As far as the security of your digital assets is concerned, BitExChain offers top-notch security by keeping them in cold storage. They offer the most innovative and efficient cold storage and it is insured by $100 million. They use advanced technology and tools to allow you to access your digital assets from anywhere and at any time. The wallets are available for free and you do not have to worry about paying any high fee for using it to store your digital assets.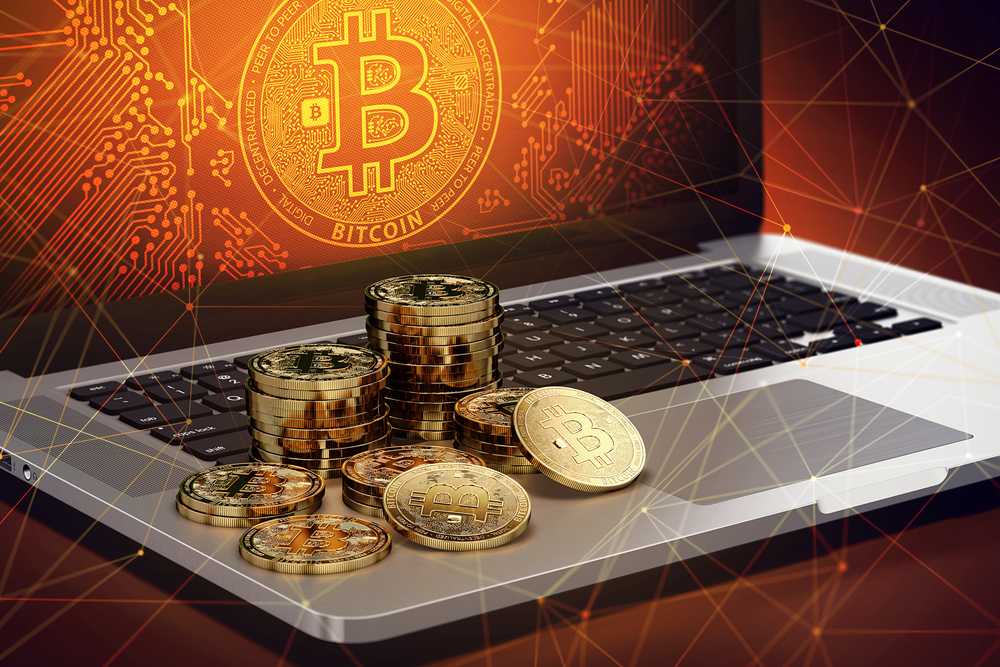 What Payment Methods does BitExChain Offer?
After you have looked into the wallet being offered by BitExChain and decided to use it for storing the digital assets you purchase, it is now time for you to do the actual buying. In order to do that, you need to look at what payment methods the cryptocurrency exchange supports. As mentioned earlier, a total of four currencies are supported by the exchange and you have to choose one at the time of registration. Fiat currencies are used for purchasing the cryptocurrency of your choice, whether it is Bitcoin or Litecoin.
There are two methods available; debit or credit cards and bank transfer. Your card needs to be verified for you to be able to use it for making your purchase. BitExChain provides support for both Visa and MasterCard. It should be noted that bank wire transfers can only be made in Euro for now and the exchange is working to add other currencies as well.
There is a withdrawal form that has to be filled out and has to be signed if you want to withdraw funds from your account. There are some documents that will also be required and your request will not be approved unless you submit them. You should know that it takes 72 hours for withdrawals to be processed after they have been approved. If it is, then the funds will be returned to the credit card, bank account or other source of payment from which they originated. The exchange can decline your withdrawal request if they consider it a fraudulent transaction or if you have not complied with their KYC and AML policy.
A unique feature that BitExChain is offering to its clients is a prepaid cryptocurrency card. This card can be used by clients for spending their crypto on anything all around the world. They can use it for vacations, for travel, shopping or anything else they may want.
What are the Pricing and Refund Policies at BitExChain?
An important thing that you should check before using a cryptocurrency exchange is their pricing and refund policies. After all, you will be investing your money and you want to make sure you will get the best possible deal. BitExChain's price calculation for the currency pairs depend on their average prices and the exchange also considers the market volatility. Their aim is to provide their clients with the best market prices at the time of execution, but bear in mind that they will not be finalized until the transaction goes through. Until then, they are subject to change because of the market's volatility.
When it comes to refund, the transactions you make via BitExChain are non-refundable because the price will be different from when you made the purchase. Once you have confirmed the transaction, it is not possible for you to cancel it, regardless of whether the order is pending or completed. While you cannot get a refund, it is possible to convert it back to Fiat currency through the crypto exchange's wallet. You will not be able to see your transactions in the blockchain because like other exchanges, BitExChain also chooses to pool their client wallets and transactions. The funds are kept in cold storage because it reduces fees and transaction times and also protects your privacy.
In case you do initiate a refund, you will be charged a refund fee that's equal to the commission fee taken by the exchange and it is not less than 5% of the amount exchanged. The refunds are deposited in the same currency as the one used for making a deposit.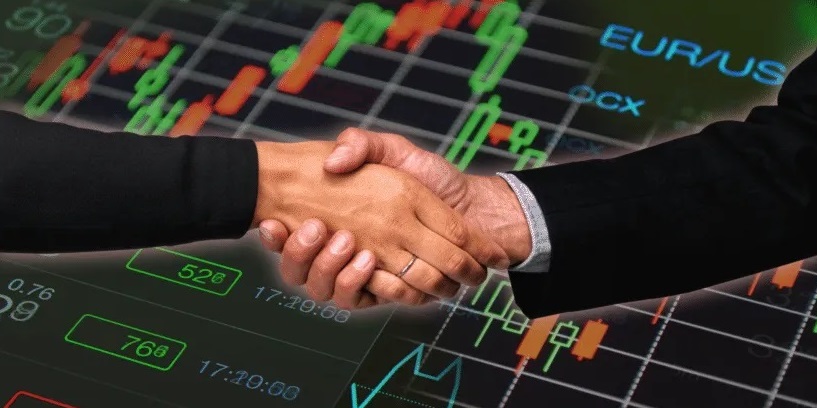 Does BitExChain Offer OTC Trading?
One of the biggest additions that BitExChain has made is the introduction of their Over The Counter (OTC) trading desk for Bitcoin and Ethereum. This allows traders to get access to the cryptocurrencies and their liquidity without having an impact on the exchange market price. It is a great option for traders who wish to trade large amounts of cryptocurrencies, but are unable to do so through exchanges because the order is not filled immediately and certainly not at the price requested. Moreover, OTC desks also provide anonymity to traders, something they cannot get through centralized exchanges.
What Kind of Customer Support is Available at BitExChain?
It is a given that when you are trading cryptocurrencies, you will have questions and queries. Cryptocurrencies are still evolving and those who are new may not know what to do and how to do it. In this case, they will require assistance and this is where customer support comes in. The problem is that most crypto exchanges don't really offer sound customer support and this can affect your experience with them. Luckily, BitExChain doesn't fall in the same category because they have taken customer support very seriously.
They have provided you with multiple channels that you can use for getting in touch with the exchange's customer support. They have given an email address you can use or you can get in touch with them through the phone number they have provided on their website. BitExChain also provides an online form that can be filled out with your problem and their representatives will get back to you. Along with these options, they have also created an FAQ section where they have provided answers to common questions that users have when they sign up with them.
Conclusion
Opting for BitExChain is an excellent cryptocurrency exchange that allows you to purchase digital assets quickly and also provides you solutions for storing it. They have top of the line security measures that provide you a secure environment and the exchange charges affordable and competitive fees and provides responsive customer support to complete the package.