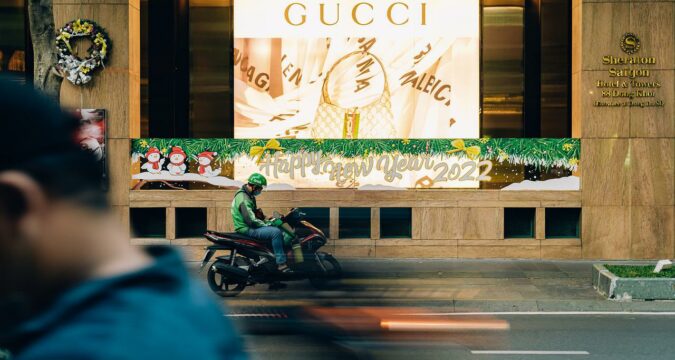 If you thought that cryptocurrencies were losing their charm and may lose their mainstream recognition over time, then cryptocurrencies are strongly underestimated.
With time, many mainstream institutions have started to recognize the importance and advantage of having cryptocurrencies integrated into their systems.
Gucci Joins the Crypto Club
Gucci had recently made an announcement, which was an exciting update for the entire cryptocurrency community. The luxury brand had announced that it was accepting cryptocurrencies.
Gucci announced that in the initial phase, the service would be able to a few stores based in the United States. However, Gucci now plans to expand its exposure in the world of cryptocurrencies. The platform has announced that it is going all-in with the adoption of cryptocurrencies.
Gucci has recorded a significant rise in its sales at particular sites, which has been recorded following the offering of cryptocurrencies as a mode of payments.
BitPay Announced Addition of More Cryptocurrencies for Gucci
Gucci announced that it had chosen BitPay to help them integrate a cryptocurrency-offering platform. Now, BitPay has confirmed that Gucci wants to take things to the next level, as it has requested to add more cryptocurrencies.
Now, Gucci customers will be able to purchase their favorite luxury items with two new cryptocurrencies. These cryptocurrencies are Eurocoin and ApeCoin (APE).
With the acceptance of cryptocurrencies, Gucci has become the first-ever luxury brand to support cryptocurrencies. It is supporting cryptocurrencies and this will lay a foundation for other major luxury brands to adopt cryptocurrencies.
Gucci Customers will have a Dozen Payment Methods
With the addition of two new cryptocurrencies, Gucci customers will now have a dozen options to make payments. In addition to the newly added cryptocurrencies, Gucci supports 5 stablecoins that are BUSD, DAI, USDP, USDC, and GUSD. Then there are Shiba Inu (SHIB), Dogecoin (DOGE), Litecoin (LTC), Wrapped Bitcoin (WBTC), Ethereum (ETH), Bitcoin Cash (BCH), and Bitcoin (BTC).
In the initial run, Gucci had launched its support for cryptocurrencies only for five stores. Still, the luxury brand saw a great reception from the customers for cryptocurrencies. This has compelled the brand to go all-out with the acceptance of cryptocurrencies.
According to Gucci executives, it may take a while until they are able to roll out the adoption of cryptocurrencies in all stores. Still, their plan is to do it for all their stores based in the United States and the rest of the world.
As of now, two-thirds of the stores owned by Gucci are accepting cryptocurrencies. The two-third figure comprises 70% of the total stores owned by luxury brands all over the globe.
Since the listing through Gucci, the value of Eurocoin has surged 1.25% while the value of ApeCoin has surged 9.08%.