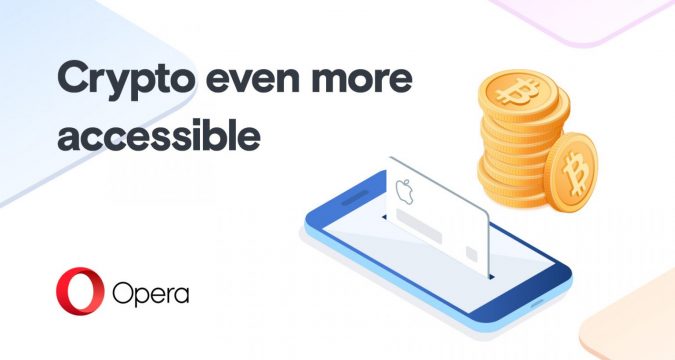 Opera Crypto Wallet
Opera browser added the functionality of buying cryptocurrency for all European countries and four other countries, including New Zealand, Switzerland, Mexico, and Australia. With the new update on Monday, users can buy Bitcoin (BTC) and Ethereum (ETH) through the built-in crypto wallet.
The new feature comes with the new updated version of the Opera browser. The head of the crypto at Opera, Charles Hamel, commented:
''Being able to acquire cryptocurrencies without having to go through an exchange, directly from the wallet makes the process easy for our users. Expanding this feature to more regions is key to driving blockchain-adoption.''
Partnered with Wyre to expand Crypto Buying
The Norwegian-based browser partnered with the US-based blockchain firm Wyre for making crypto purchases easy and efficient through the browser's integrated wallet. One can buy crypto using a Mastercard and Visa as well. ''We're excited to expand on our collaboration with Wyre and deliver a best-in-class crypto buy experience to even more countries,'' Hamel added.
Wyre is also providing crypto buying solution to iOS users via Apple Pay. Both companies are working together to implement blockchain technology to the best in providing crypto services to users worldwide.
The users from the following countries can now buy the top two digital assets via built-in wallet: Portugal, Slovakia, Slovenia, Austria, Belgium, Czech Republic, New Zealand, Norway, Poland, Hong Kong, Ireland, Italy, France, Germany, Greece, Spain, Sweden, Switzerland, Mexico, the Netherlands, Latvia, Lithuania, Luxembourg, Denmark, Estonia, Finland, Australia, and the United States.
Procedure becomes Easy with Unstoppable Domains
Opera is also working with the blockchain naming system built on Ethereum called Unstoppable Domains. This partnership will assist the users in sending and receiving digital assets as an easy domain name will act as an address rather than lengthy public key numbers.
The giant internet browser entered into blockchain gateway back in December 2018 when they launched the Android browser integrated with cryptocurrency wallet and decentralized explorer. Later, they also added this facility for desktop and iOS users.