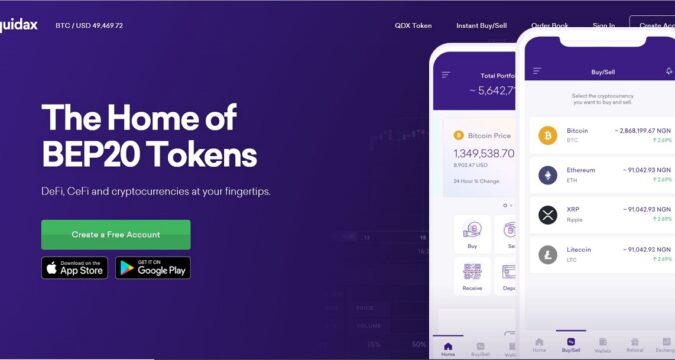 One of the most successful crypto trading platforms of Africa, from all aspects, without any doubt, is Quidax. It is currently the top leading crypto trading platform in all of Africa, which is being joined by a high number of customers from all of Africa. It has around half a million customers from countries such as Nigeria, Kenya, South Africa, Tanzania, Ghana, Ethiopia, etc.
Quidax has recently made an announcement on May 10, 2021, in which it has revealed its plans of expansion. It has been announced by Quidax that the company plans to establish businesses outside the African continent. It was of the view that it is time to explore international crypto markets and seek customers outside Africa.
It has been further informed by Quidax that it is fully prepared and ready for launching its own tokenized form of crypto. The company told that it has already selected a name for the token and would call it "QDX".
As compared with its competitors in the African region, Quidax is relatively a very young crypto trading platform. It has been established only a few years back in 2018. Through the entire time of its business since 2018 to date, the company has focused on serving African customers. However, earlier in the month of February this year, the company achieved some unexpected results. Because of these results, Quidax then decided that it should start serving international crypto customers as well.
Buchi Okoro, who is the Chief Executive Officer of Quidax, informed that the past year's business of the company was extraordinary. It noticed that when the company launched its crypto trading services, it never expected to grow at that much pace. Quidax started as a small-medium enterprise in 2018 and is now a large enterprise. In addition, Quidax is selling a brand name that is recognized throughout the region now. Apparently, Quidax has come a long way in the crypto industry without wasting any time and has achieved a lot in less than 3 years' time.
Okoro informed that last year the trading platform had successfully executed crypto trade transactions worth approximately US$ 3.2 Billion. He further informed that back in 2018; Quidax started its operations with only 50 customers. Now the company has more than 400,000 in Africa and the number is growing by more than a thousand people joining every day.
It was informed by Okoro that Quidax was working on the project called QDX i.e. native tokenized crypto to be issued by Quidax. It was pointed out by Quidax that the tokenized native coin of QDX would comprise BEP20. This BEP20 will allow QDX to derive the power to do all the functions within the trading platform.
However, has Quidax spent a fair amount of time in the local market for moving on in the international market? That is a big question mark and only time will disclose the truth.