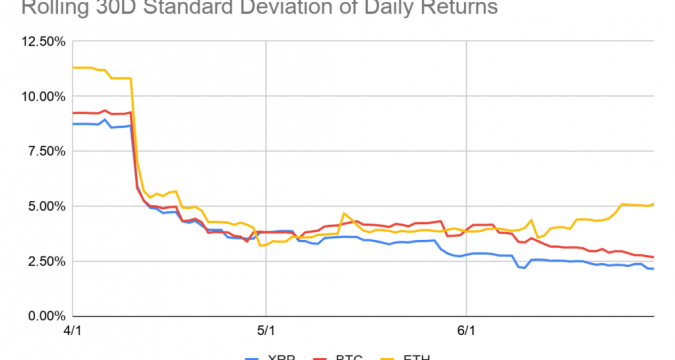 According to the latest report titled "Q2 2020 XRP Markets Report" published by the Ripple, the XRP sales surged exponentially in Q2 as compared to the Q1. The Ripplenet's On-Demand Liquidity has also witnessed significant growth from April to June.
XRP Token Sales
Per the Ripple's quarterly report published on August 3, sales of Ripple's token XRP were $32.55 million, almost 18.6 times higher as compared to the first quarter. Ripple's On-Demand Liquidity network has seen adoption on a large scale.
The report added:
"In Q2 2020, total XRP sales were $32.55 million (USD) vs. $1.75 million the previous quarter. Ripple continued the pause of programmatic sales, focusing solely on its over-the-counter (OTC) sales as part of providing increased XRP liquidity to RippleNet's On-Demand Liquidity (ODL) customers. This added liquidity is vital as ODL continues to evolve and expand into new corridors."
The volatility of Bitcoin has remained low in recent months, but Ripple claims that XRP's liquidity is below Bitcoin based on the standard deviation of daily returns.
"XRP's standard deviation of daily returns over Q2 was 3.0%, representing a decrease in volatility from Q1's 6.2%. XRP's volatility over the quarter was lower than that of bitcoin (3.4%), and lower than that of Ethereum (4.2%)."
Moreover, the Ripple network has achieved valuable integrations with prominent companies, including Sygnum Bank, Zero Hash, and Swisscom Blockchain.
Liquidity and Volume
In terms of liquidity and volume, XRP has also proven its potential. "As for overall liquidity and volume, XRP ended the quarter as the fifth most traded digital asset as measured by rolling 30D volume. XRP volume remained relatively strong as overall digital asset volume saw a dip in the second quarter of 2020. The XRP Ledger saw over 85 million in total transactions and XRP's adjusted transfer value (NVT) ratio was 200.512—the highest among all digital assets in Q2," the report reads.
XRP price has shown a significant increase-nearly 40%- in the past week. While price value rallies 6.12% in the past 24-hours.
As cryptocurrency markets have turned bullish, XRP has seen investments from whales who are now holding the investment from $240,000 to $2.4 million.
A lawsuit is running against Ripple for selling unregistered tokens and collecting investments from investors.