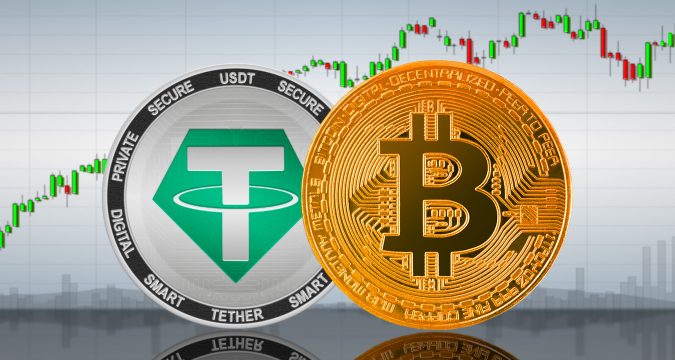 The stablecoin Tether is up despite the current price crash in the crypto markets. According to many crypto maximalists, a stablecoin can act as a bridge between cryptocurrency and fiat currency. The same is happening as some investors are seeking USDT in down markets and are ready to enter the markets once the green signal is received.
Almost all of the digital coins including Bitcoin faced dump in their market volume in the recent price crash. But the stablecoin backed by US dollar USDT outperformed other cryptocurrencies in terms of market cap and reached $5 billion.
It is very unnatural as the company announced that they marked $5 billion in market cap while at the same time, other digital currencies were crashing.
''Today we have surpassed a market capitalization of $5 billion, amid a surge in interest in crypto's most liquid, stable and trusted currency,'' the platform informed via Twitter. ''This important milestone confirms Tether's place as the pre-eminent stablecoin, with the biggest market capitalization.''
Only Tether did not go up during the overall markets' plunge, few other stablecoins also showed a great rise in the price values. Coinbase's stable coin jumped from $461 million to $491 million during that period.
Tether is a 'huge money driver' for Bitfinex
The cryptocurrency exchange Bitfinex gained a lot of profit from USDT. The Chief Technology Officer (CTO) at Bitfinex, Paolo Ardoino, accepted while giving an interview with Decrypt that USDT is a great source of revenue for the exchange. '' It's a huge money driver. That is one of the reasons why our racing horse is USDT,'' he said.
Ardoino said:
''The revenues of Tether are basically cash holding and safe investments like treasuries, so you can easily understand that if you can have a three, 3.5% return per year on a $4 billion market cap, or $4.8 now billion market cap, that is quite some interesting money there. You can do the math. More than $100 million.''
Stablecoins are proving as safe assets during such certainty in crypto and financial markets all over the world. It is supposed that investors are turning to fiat-backed digital coins due to their less volatile nature.