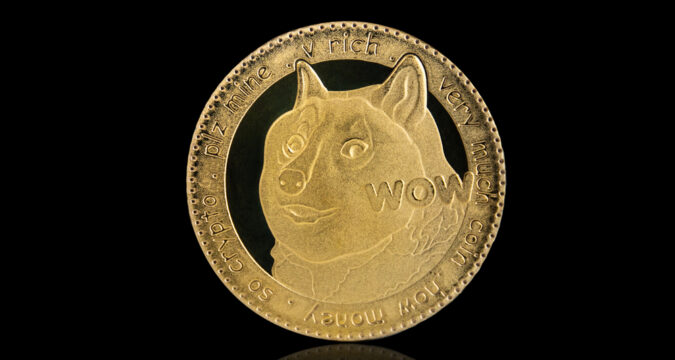 An executive of Goldman Sachs who has recently resigned from his post with the bank, earned massive profits in millions while trading in the meme crypto i.e. Dogecoin. The value of the meme coin is surging expeditiously for the past 6 months as it has been touted by globally recognized celebrities as well as business individuals like Elon Musk.
Aziz McMahon was the Managing Director of the UK's Goldman Sachs – a leading investment company in the US. He had been associated with the investment company's UK office for a very long time. However, McMahon had recently resigned from his MD's post from Goldman Sach's UK. He duly submitted his resignation to the Board of Directors of Goldman Sachs. However, the ex-official of Goldman Sachs did not make mention of the reasons which led to the submission of his resignation.
Later on, it was revealed by Efinancialcareers that McMahon was a big crypto investor and was investing in Dogecoin for quite some time. The news of Efinancialcareers suggested that this was the reason why the MD had resigned. Efinancialcareers further suggested that McMahon had a successful investment career in Dogecoin as he had earned millions of dollars worth of profits. It is expected that the MD Goldman Sach would soon be launching his own hedge fund, revealed Efinancialcareers.
It seems that the publication could be authentic because there were also people close to McMahon who confirmed his participation in Dogecoin. Also in the past few months, Dogecoin's value has surged more than 72 times. It, therefore, has credence that McMahon might have earned millions of dollars, as he was allegedly one of the biggest Dogecoin investors.
Dogecoin is currently one of the highly adopted crypto coins and an asset whose value is continuously rising. Its current market value is around US$ 0.4741 and has touched its all-time high of US$ 0.6873. Within this month alone, Dogecoin's value has spiked at an average rate of 27%. Similarly, since April 2021, according to the data and statistics of Bitcoin.com, Dogecoin's value has reportedly surged around 720%.
In the meantime, another investor of Dogecoin has raised a claim that he has earned millions by investing in cryptocurrency. This unknown person also stated that Tesla's Elon Musk his role model and because of Musk, he became a Dogecoin lover. On the other hand, Musk has self-acclaimed a title for himself earlier in which he said that he thinks of himself as "Dogefather". For earning the title, Musk had initiated a public poll from his official Twitter account. Interestingly most of the people who voted in the poll endorsed "Dogefather" title in his favor.
Out of the crypto community, the majority of well-recognized celebrities of the world has blessed Dogecoin's adoption. For instance, celebrities such as famous basketball player, Mark Cuban, and the star host of Shark Tank, Kevin O'Leary had been promoting Dogecoin continuously.