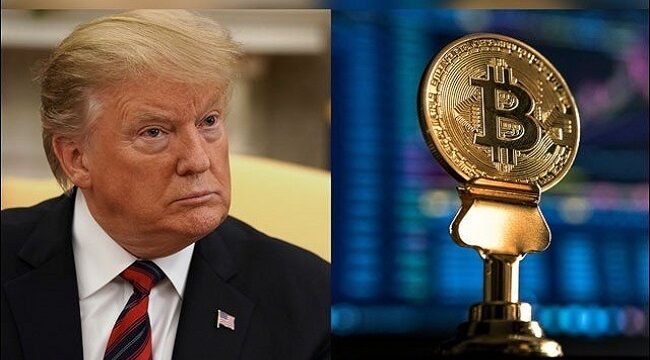 In a recent statement, the ousted US President Donald Trump said that he never liked Bitcoin nor he thinks Bitcoin has any fundamentals to engage head-to-head with the US Dollar. He then labels Bitcoin be a "one big scam" and that Bitcoin calls for strict regulation.
Although the US's former President, Donald Trump, has been sent back to the pavilion, however, his opinions are still making headlines. Recently, Mr. Trump was seen at Fox Business where he discussed in detail Bitcoin.
As usual, Trump started off by showing his disliking towards Bitcoin and said that being a business he never liked Bitcoin. He stated further that he doesn't think that he would be ever convinced to put a penny into Bitcoin. Rather he thinks that Bitcoin is a part of one of the biggest propaganda of a handful of people. Trump even went on to state that to him Bitcoin is nothing but a "one big hell of a scam".
He referred to the time when he was President to suggest that Bitcoin was trading hands at US$ 6,000 at that time.
Trump remarked that he is a patriot and being an American citizen who loves his country, he wants to see the dollar's supremacy. He said that he hates when people compare US Dollar with Bitcoin, especially when they think that Bitcoin is US Dollar's competitor. He argued that Bitcoin is lacking fundamentals and therefore is not equipped to take down US Dollar. Bitcoin is so flawed that it cannot even compete with the worst fiat currency of the country which has the least value. He believes that US Dollar is one such currency which is the world's currency and that's the bottom line.
Trump also discussed the US companies which had recently been subjected to cyberattacks particularly crypto attacks. He said that this is what happens when you think something is "currency" but it turns out to be an attraction for cyber-criminals. But he continued to speak more about a dollar and its importance. For instance, he said that if private companies are allowed to issue "private currencies" then this will seriously hurt "US Dollars". A currency is such which is issued normally by a state and state-backed institution and there is supervisory control over the currency. One which is not issued by the state nor backed by a state institution cannot at all be regarded as "currency".
In the end, Trump argued that when something involves public dealing and their money, then it should be regulated. Similarly, Bitcoin is an investment vehicle and therefore it has to be regulated. In fact, it has to be regulated more seriously because it has flaws such as its use by money launderers and terrorists.